Geetha Govindam is the story of Govind (Vijay Devarakonda) who is a simple living youngster and aspires of getting a good can make his life beautiful. He spots Geetha and falls for her on first spot. But unfortunately she gets a bad impression from the first go and a series of instances make things even worst. The rest of Geetha Govindam is all about how Govind changes his impression and how Geetha realizes that Govind is the right choice. Watch Geetha Govindam to know about the complete story and what happens next.
Geetha Govindam
A

nalysis :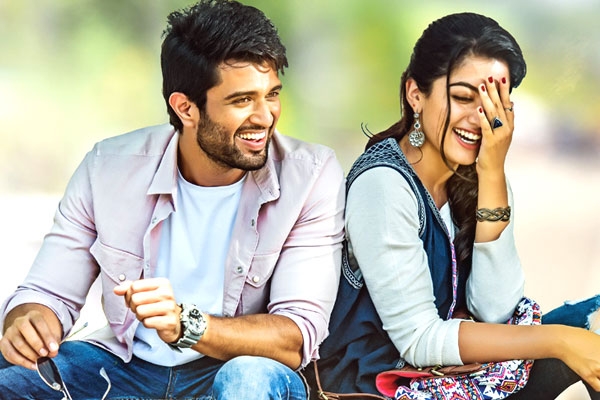 The entire first half of Geetha Govindam travels on a lighter note and has been laced with huge dose of sensible entertainment. The performances by the lead actors has been a treat and the songs have been shot well. The interval episode has been impressive and is a treat to watch. Vijay Devarakonda is a real treat and he carries the entire film on his shoulders. Rashmika has been ultra gorgeous and she shines completely as Geetha.
The second half slightly dips down due to the unwanted episodes but the last half an hour lives up the expectations and stands tall. Once again, the film stands out because of the outstanding and flawless performances by the lead actors. The climax of the film is a treat and ends up on a happy note. The songs have been shot well. On the whole, Geetha Govindam is an impressive rom com.
Geetha Govindam
P

erformance :
Vijay Devarakonda signs a different film after Arjun Reddy. His performance has been subtle and hard hitting. The actor impresses youth big time with his performance. Rashmika is a new find for Tollywood and she is here to stand out. After Chalo, the actress shines in the assignment and is a perfect find for the role of Geetha. She has been beautiful and glamorous in the assignment. Vennela Kishore and Rahul Ramakrishna have been thoroughly entertaining. Subba Raju has an interesting role and all the other actors did well.
Geetha Govindam has nothing interesting with its plot. The screenplay and dialogues have been penned well which makes the film stand out. With the music album alredy impressive, the songs have been shot well on screen. The background score elevates the film well. The editing has been crisp and the production values have been decent. Parasuram steps out with an impressive work once again with Geetha Govindam.
Final Word:
Geetha Govindam is an impressive rom com that has been laced with loads of entertainment and stellar performances. Go catch this breezy romantic entertainer near your theatres.
Geetha Govindam Movie Review, Rating, Story