Gang Leader is the story of Pencil Parthasarathi (Nani) who is a revenge writer who copies stories from Hollywood films. In an unexpected move, a bunch of women approaches him to take revenge on a person who is involved in a crime. Though Pencil is not convinced initially, he decides to take up the job and starts investigating the matter. It is during this time, he falls in love with Priya (Priyanka Arul Mohan) and the rest of Gang Leader is all about a bank robbery and its relation with these women. Watch Gang Leader to know about the complete story.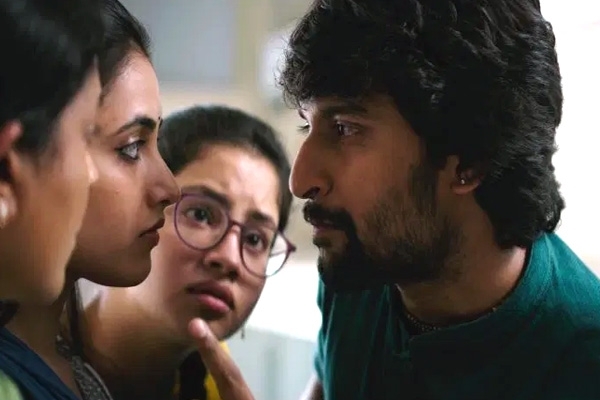 The first half of Gang Leader looks decent and is laced with entertainment. Nothing much gets revealed during the first half and the interval episodes look decent. The songs are just ok and the bank robber episode looks good. Nani tops the show with his flawless performance throughout. Vennela Kishore has been hilarious in his attempt. Vikram Kumar manages to keep the suspense under wraps. On the whole, the first half of Gang Leader looks decent and entertaining.
The second half of Gang Leader has been packed with surprises but most of them look predictable. The entertainment once again takes the lead and Nani's performance is the major highlight of Gang Leader. The pre-climax episodes look dragged and the climax is predictable and ends up with an action stunt. The songs have been decent and the cinematography work looks top notch. Except for some dragged episodes, the second half of Gang Leader looks decent.
Gang Leader
P

erformance :
Nani tops the show with his flawless performance as Pencil Parthasarathi. His comic timing has been top notch and Nani makes enough noise with his performance. Priyanka Arul Mohan is a fresh pick and the actress looks decent in the assignment. Lakshmi and Saranya are outstanding in their roles and they supported the film well. Vennela Kishore and Priyadarshi manage to entertain the audience well. All the other actors did their jobs well.

Gang Leader has an interesting plot set in a different backdrop. The screenplay and dialogues look decent. The music by Anirudh looks perfect for the theme and the background score is one of the major highlights of Gang Leader. The cinematography work shines well and the production values make the film look lavish. Vikram Kumar delivers a decent film which is high on entertainment and tipped with a revenge drama.


Final Word:


Gang Leader banks big on entertainment and flawless performance by Nani. A decent one time watch.
Gang Leader Movie Review, Rating, Story