Kobbari Matta is the story of Paparayudu, Pedarayudu and Androidu. The film's lead actor Sampoornesh Babu essayed all the three roles in this spoof comedy. The film is inspired from several Telugu commercial formula films filled with emotional dosage and item numbers. Kobbari Matta is the story of all the three and watch the film to know about the core story and how Sampoornesh essayed them.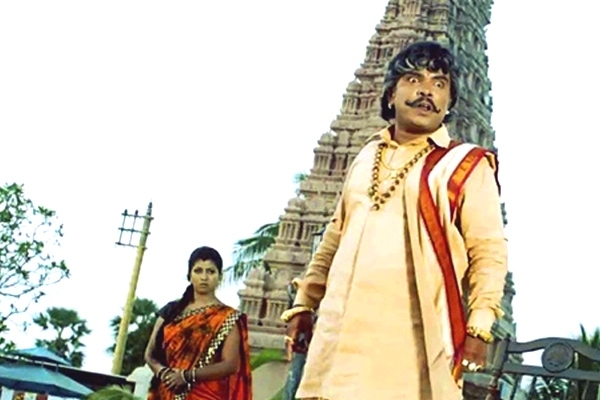 Kobbari Matta opens on a decent note and the first half is filled with loads of entertainment. Sampoornesh Babu carries the entire film on his shoulders. The songs have been canned well and it is the writing that takes the film to the next level. It is during the interval episode, the real story unfolds and the first half of Kobbari Matta makes a decent watch.
The second half of Kobbari Matta takes a deep down but manages to impress the audience because of the spoof comedy and Sampoornesh Babu's packed performance. Honestly saying Kobbari Matta may not appeal to all the sections, but it will sure impress Sampoo's fans big time. If you liked Hrudaya Kaleyam, Kobbari Matta is for you. The last half an hour of Kobbari Matta looks decent and the film ends up on a decent note.
Kobbari Matta
P

erformance :
Sampoornesh Babu tops the show with his outstanding performance. He manages to fit well in all the three roles Paparayudu, Pedarayudu and Androidu. Sampoornesh Babu carries the entire film on his shoulders and his dance moves have been exceptional. Ishika Singh and Gayatri Gupta did their jobs well and they performed well in their roles. Kathi Mahesh spoof is one of the major highlights of the film. Shakeela did a decent job and she was a perfect fit in her assignment.

One needs guts to write spoof and Kobbari Matta is a film that is penned based on Tollywood commercial potboilers and is a perfect satire. The screenplay and dialogues have been decent. The music suits the film's theme and the background score is outstanding. The cinematography work is good and the production values made the film look colorful. Rupak Ronaldson managed to generate enough smiles across the theatres.


Final Word:


Kobbari Matta is laced with spoof comedy and those who are fond of those films can give Kobbari Matta a shot.
Kobbari Matta Movie Review, Rating, Story