Srinivasa Kalyanam is the story of Vasu (Nithiin) who hails from a joint family and values relations, emotions more than anything in life. He falls in love with a girl (Rashi Khanna) who works in a coffee shop, but she happens to be the daughter of a multi-millionaire RK (Prakash Raj) who finds business all the time. Vasu convinces RK to get married to his daughter and the rest of Srinivasa Kalyanam is all about the beautiful moment called wedding. Watch Srinivasa Kalyanam to know about the rest.
Srinivasa Kalyanam
A

nalysis :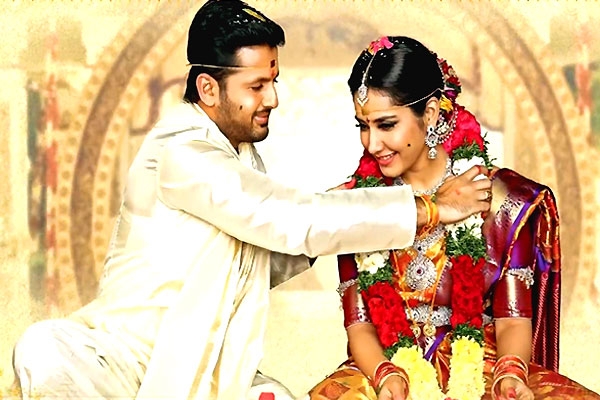 The first half of Srinivasa Kalyanam goes on a smooth pace and it depends majorly on entertainment and a beautiful love story. As time passes, the film turns serious and enters into the mode of wedding. The songs have been shot well and the emotional drama has been decent. The first half of Srinivasa Kalyanam goes on a lighter note and appeals to youth well.
The second half of Srinivasa Kalyanam is completely focused on wedding. A bunch of actors steal the show with their stellar performances throughout. The film though has an emotional dose stands tall and never dips down. The songs and the family drama along with an emotional climax makes the second half a beautiful masterpiece. The performances of all the actors should have a special mention.
Srinivasa Kalyanam
P

erformance :
Nithiin who has been struggling with debacles makes a comeback with Srinivasa Kalyanam. He has been simple and performed well. Rashi Khanna is a treat to watch and she has been perfect in the challenging role. Jayasudha is an asset and she has been outstanding. Prakash Raj carried the film on his shoulders and has been emotional. Rajendra Prasad, Aamani, Naresh and Sitara have been flawless in their roles and did with perfection. All the other actors have been found fit in the roles.
The story of Srinivasa Kalyanam has been decent and it discusses about the importance of marriage. The screenplay and dialogues are the major assets of the film. The music and the background score have been apt and elevated the film well. The cinematography work will stand out and makes the film a treat to watch. The production values have been grand enough and Satish Vegesna impresses once again with an out and out family entertainer.
Final Word:
Srinivasa Kalyanam is one of the finest family entertainers in the recent times. The performances, emotional drama, production values and the direction makes the film a treat.
Srinivasa Kalyanam Movie Review, Rating, Story