India's biggest film ever Mahabharata: Made on Rs 1000 Cr
Posted: 04/17/2017 07:27 PM IST
(Image source from: India's biggest film ever Mahabharata: Made on Rs 1000 Cr)
Setting a rare record in the Indian Film Industry, Dr. B R Shetty, UAE based billionaire businessman and philanthropist is investing Rs.1000cr (USD 150 Million) to produce India's biggest ever motion picture 'Mahabharata'. This magnum opus is being directed by noted ad man and advertising film maker VA Shrikumar Menon. Mahabharata will be produced in two parts and is scheduled to go on floor by September 2018 and will be released in early 2020. The second part of the film will be released within 90 days of the first part. The film will be shot primarily in English, Hindi, Malayalam, Kannada, Tamil and Telugu and will be dubbed into major Indian languages and leading foreign languages.
The film will be coming together of the crème de la crème of Indian and global cinema, in terms of its cast and crew. (The technical crew would include some of the great names in the world of Indian cinema including some academy winners. The cast will have the best of talents from Indian cinema as well as some big names from Hollywood.) The film will have an identity across continents, with representatives donning the myriad characters in Mahabharata! A global team led by an internationally renowned casting director will handpick the cast.
Serial entrepreneur and billionaire Dr. B.R.Shetty has been a keen supporter of Indian Arts and Culture for over many decades. With this decision to back Mahabharata, Dr. Shetty will join the league of visionary producers like Lord Richard Attenborough who backed the biopic "Gandhi" which was based on the life of India's most famous freedom fighter, and India's father of the nation, which appealed to a global audience.
It remains almost impossible to narrate Mahabharata in the big screen except by way of adaption of M.T. Vasudevan Nair's Jnanpeeth Award Winning novel Randamoozham ( The Second Run). This novel narrates Mahabharata through the eyes of Bhima, the second of Pandavas.
The screenplay is written by the writer himself who holds a record of maximum national award for screen writing in the history of Indian cinema.
The ancient Sanskrit epic of Mahabharata has been a topic of creative adaption in different formats for many decades. There have also been efforts to render it, but the success of these has been limited to the stage or serialization for the television audiences. Hence, the project will be the first of its kind to take the epic which has been engaged generations of audiences on the silver screen at such a grand level. The Indian core team led by Dr. B.R. Shetty augurs well to ensure that the sanctity and the iconic status of the epic is upheld.
Dr. B.R. Shetty, Founder and Chairman of UAE Exchange and NMC Healthcare said, " Mahabharata is an epic of all epics. This movie will be a true 'Make in India' made for the world. Mahabharata mesmerizes as well as brings focus on life and living". "I believe that this film will not only set global benchmarks, but also reposition India and its prowess in mythological storytelling. I am confident that this film will be adapted in over 100 languages and reach over 3 billion people across the world." Importantly, am awestruck by the fantastic screenplay by Sri. MT and I have tremendous faith in the ability of V.A Shrikumar to paint this narrative on celluloid. His passion and energy are boundless" Dr Shetty added.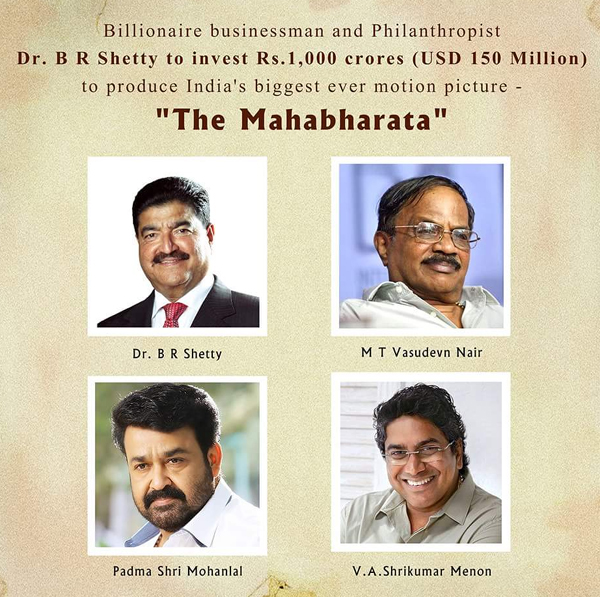 Commenting on the initiative, Padma Bhushan MT Vasudevan Nair, receipient of almost every award in India including the Jnanpith Award and many abroad said " I am extremely happy with Dr. B.R. Shetty's belief in the potential of the story and his passion and commitment to take it to global audiences. I sincerely congratulate him for his vision in backing a project of this scale."
Mr. V A Shrikumar, Director who has been living the script and researching for this project for the past few years said, "I would like to sincerely thank Dr. B R Shetty for having immense faith in this project and help bring it to life with his financial commitment and his innate pride on Indian Heritage. We are fully geared to attain the next level of production quality and visual magic, as well as a narrative wizardry with this initiative."
Says actor Mohanlal: "I feel honored that my name has been heard for the role of Bhima ever since the news of a cinematic adaptation of MT Vasudevan Nair's Randamoozham started doing rounds. I feel humbled and honored at the same time that the author himself has envisioned me for enacting Bhima.
A film based on Randamoozham, if it has to do justice to epic Mahabharata, has to be created in epic dimensions to reach a global audience. And that is where I salute a visionary businessman like BR Shetty to have come forward to invest Rs 1000 crore in this project which is going to be a gift for generations to come. I am sure the commitment has risen from his love for Mahabharata that we all have been brought up with and his duty to showcase the timeless epic to the world as a truly Indian project. Only a person with great vision and passion for our culture and heritage can think of funding a project of this scale.
The commencement of the project is also the result of the relentless pursuit of Mr. VA Shrikumar who has been working to make this a reality for a long time. I have known him as an advertisement filmmaker for many years and am sure that he will make this film into an everlasting epic in celluloid."
About Dr. B R Shetty
Bavaguthu Raghuram Shetty (known as Dr. B R Shetty) is the Founder and Chairma of Abu Dhabi based NMC group. The conglomerate includes global institutions like NMC Healthcare, UAE Exchange, Travelex etc. The group when established in 1975 was initially interested in hospitals, but since then has diversified into sectors including pharmaceuticals, global financial services, retail, advertising, information technology, education and knowledge based industry. The enterprise he has built over the years is truly a metaphor of India's emerging leadership in a global marketplace.
- Press Note.
If you enjoyed this Post, Sign up for Newsletter
(And get your daily news straight to your inbox)