Mohan Ranga (Nithiin) is a youngster who dreams of making it big in life by flying to USA. After trying hard, Ranga manages to get US Visa and flies to the country. He falls in love with Megha (Megha Akash) on first sight and as time proceeds, the duo express their love for each other. Right at this time, the duo parts ways and Megha returns back to India. Mohan Ranga starts searching for her and finds her finally. The rest of Chal Mohan Ranga is all about what happens next. Watch the film to know about the twist that parts them and how they wins their love.
Chal Mohan Ranga
A

nalysis :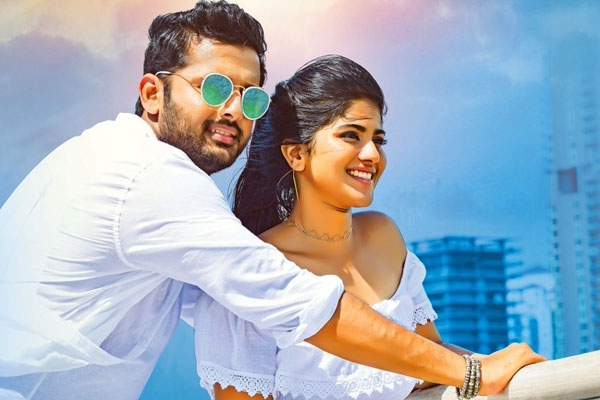 Chal Mohan Ranga doesn't have an engaging plot but it is the entertainment that drives the film. The first half of Chal Mohan Ranga looks decent and entertaining thoroughly. The performances of the lead actors and the songs make the magic. The grand production values is a huge asset for the film and the entire first half looks passable with decent entertainment and no engaging stuff.
The second half of Chal Mohan Ranga too lacks interesting stuff and it is the entertainment that leads the show. The performances by the lead actors and the emotional climax that tops the show. The songs have been decent and Chal Mohan Ranga's technical aspects will be widely appreciated. With some dragged episodes and predictable stuff, Chal Mohan Ranga may not impress everyone. The second half of the film is a let down.
Chal Mohan Ranga
P

erformance :
Nithiin delivers a stunning performance throughout the film. He looks simple and performed will in the emotional episodes. His comic timing has been top notch and the actor is one of the highlight for Chal Mohan Ranga. Megha Akash looks simple and draws your attention. Prabhas Seenu, Madhu and Satya entertained the audience big time. Rao Ramesh has been impressive and all the other actors carried their roles well.
Chal Mohan Ranga has a lean and predictable plot. The screenplay and the dialogues make the film meaningful and passable. The music, background score have been perfect and well suited. The cinematography and the grand production values are the film's major highlights. Krishna Chaitanya picks up a pale script and has been focused completely on entertainment.
Final Word:
Chal Mohan Ranga offers decent entertainment leaving away an interesting plot. Nithiin and Megha Akash shine throughout in this routine and predictable romantic drama.
Chal Mohan Ranga Movie Review, Rating, Story