Sarkar is the story of a NRI Businessman Sundar Ramaswamy (Vijay) who owns a software firm in USA. He returns back to Chennai to cash his vote after which he realizes that his vote gets misused. Vijay files a petition and the Election Commissions holds the result. After a series of attacks, Sundar decides to make his entry into politics and Sarkar is all about what happens next and how he makes an impact across the political circles of the state. Watch Sarkar to know about the entire story.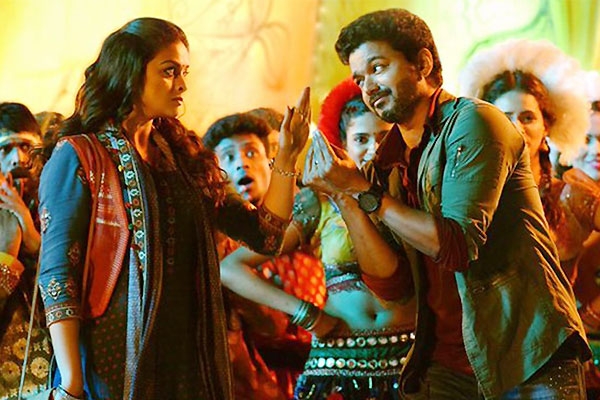 Sarkar starts off with a bang with a stylish introduction of Vijay. The film holds well during the first half an hour and the narration looks outstanding. However things turn predictable but it is the action episodes and the songs that make the film engaging. The interval episodes have been shot well and Vijay hints of the second half. The first half looks decent on the whole.
The audience will be left puzzled throughout the second half because of the poorly written political drama. The film has been so badly presented that it loses pace and dips down. The political drama fails to elevate the film except some interesting dialogues of Vijay. The pre-climax and climax episodes make the film tumble down even more and the second half of Sarkar ends up on a disappointing note.
Vijay tops the show with his energetic and top notch show throughout. Right from his dance movies to the action stunts, his dialogues to his transformation as a politician, Vijay has been perfect and he carried the entire film on his shoulders. The actor elevates the film well. Keerthy Suresh is a treat to watch and she has been decent in the limited role. Varalaxmi Sarathkumar excels in a negative role and she is a treat to watch. Radha Ravi and Yogi Babu should be appreciated for their works.
Sarkar lacks an interesting plot and looks convincing for the first half. The second half of the film is a huge disappointment because of the screenplay and the dialogues. The music looks decent and apt. The background score has been elevating and the cinematography work has been top notch. The production values have been grand and AR Murugadoss fails badly in executing the second half of Sarkar.
Final Word:
Sarkar is one more disappointment from AR Murugadoss and it no where matches to the previous outings of Vijay and Murugadoss.
Sarkar Movie Review, Rating, Story