Saamy starts where the first installment ends. It is the story of Ramaswamy (Vikram), a powerful and strict cop. He dreams of wearing a police uniform right from his childhood. His parents get brutally killed during his childhood days and Saamy hunts for them. He falls in love with Diya (Keerthy Suresh). Right after this, he comes to know that it is Ravana (Bobby Simha) and his gang who assassinated his parents. The rest of Saamy is all about how he faces the goon Ravana and ends up winning over him. Watch Saamy to know the answers for several questions.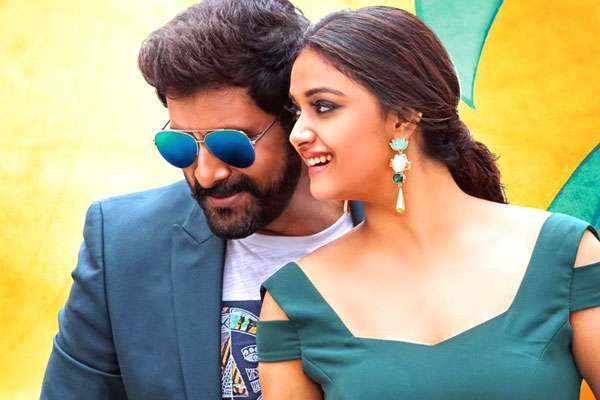 The first half of Saamy has been packed with loads of action and the screenplay looks racy. The cinematography work should be widely appreciated and the first half has been packed with loads of action and some packed performances by the lead actors. Keerthy Suresh had a limited role and she has been decent. With an action packed interval episode, the first half of Saamy looks decent but offers nothing new and interesting.

The second half of Saamy has been filled with unwanted action and loud background score that leaves the audience irritated. The major plot has been left behind because of various sub plots. The film lacks entertainment and an interesting love story. Keerthy Suresh has been restricted to songs alone. The pre-climax and climax episodes even make the film worse. On the whole, the second half of Saamy is a huge disappointment.
Chiyaan Vikram has been outstanding in the role and he shines as a cop. His stunning screen presence and body language is a treat to watch for masses. Keerthy Suresh has been limited to songs and couple of episodes. Bobby Simha has been apt for the role of the lead antagonist and he played well. All the other actors have been decent in their assignments.

The story of Saamy offers nothing new and looks pale. The screenplay and dialogues remind us about the Singham franchise. The music has been decent but the background score has been loud and irritating. The cinematography work should be appreciated and the production values have been grand. Hari fails completely in making Saamy an interesting action drama.


Final Word:


Saamy is a huge misfire from Hari and the film falls flat because of the unwanted drama and loud action. Vikram shines in this action drama.
Saamy 2 Movie Review, Rating, Story