Thaanaa Serndha Koottam
S

tory
Thaanaa Serndha Koottam is the story of Uttam Das (Suriya) who plans to make it big in life by turning a CBI officer. However his dreams get corrupted due the corrupted officers in the system. Das after losing his cool forms his own Thaanaa Serndha Koottam and raids businessmen and politicians faking themselves as CBI officials. It is during this time, the government appoints a special officer (Karthick) to catch the Thaanaa Serndha Koottam. The rest of the film is all about how they prove their innocence. Watch Thaanaa Serndha Koottam to know about the complete film.
Thaanaa Serndha Koottam
A

nalysis :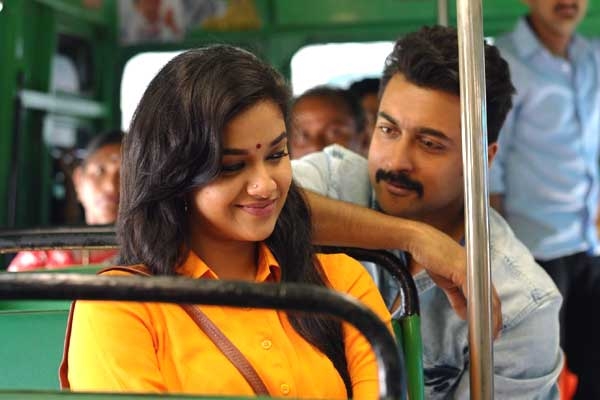 The first half of Thaanaa Serndha Koottam has been completely decent and it has been laced with enough amounts of entertainment, action and romance. The action episodes have been shot well and the songs have been placed well. With an interesting twirl, the first half of the film is thoroughly engaging and impressive. Suriya fits in the bill as a fake CBI officer and he looks extremely energetic throughout. However some of the episodes misses the logic and leave the audience in shock.
The second half of Thaanaa Serndha Koottam is a huge misfire as the major plot has been left behind because of several unwanted episodes that take a massive lead. The levels of entertainment come down and the film turns serious. The audience will be faked much because of some unusual instances and too much Tamil flavour will not appeal to all the sections of the audience. The songs are a huge letdown and the climax ends up on a simple note.
Thaanaa Serndha Koottam
P

erformance :
Suriya has been bold enough and he performed with ease throughout the film. He has been natural as fake CBI officer and managed to entertain the audience well. Keerthy Suresh had low scope to perform and she has been decent in the crisp role. She has been completely expressive. Ramya Krishna delivered one more dynamic performance in the film and is one among the highlights. Karthick tops the show with his flawless performance and he elevated the film well. All the other actors looked decent.
The story of Thaanaa Serndha Koottam has been inspired from Bollywood film Special 26 but the makers made enough changes for the script to suit the South Indian audience. The screenplay turns clumsy during the second half and the dialogues looked decent. The music and the background score are huge disappointments and the cinematography work suits the film's mood. The production values look lavish and Vignesh Shivan manages to impress the audience with the first half. However with the second half, he falls flat and short.
Final Word:
Thaanaa Serndha Koottam is one film which is half baked and half adopted from Bollywood film Special 26. Though the first half manages to stand decent, the second half of the film falls flat. Suriya tops the show with his performance.
Thaanaa Serndha Koottam Movie Review, Rating, Story