Lakshmi's NTR starts in 1989 when the entire family of NTR betrays him and when he is left alone. It is during this time, Lakshmi Parvathi enters his life and brings an idea of penning his biography. Soon speculations take the lead about the relationship between NTR and Lakshmi Parvathi. Chandra Babu brings this to NTR's notice. NTR soon announces that he would get married to Lakshmi Parvathi and the rest of Lakshmi's NTR is all about how he returns back to power in 1994 and about the drift between NTR and Chandra Babu. Watch Lakshmi's NTR to know about the complete story.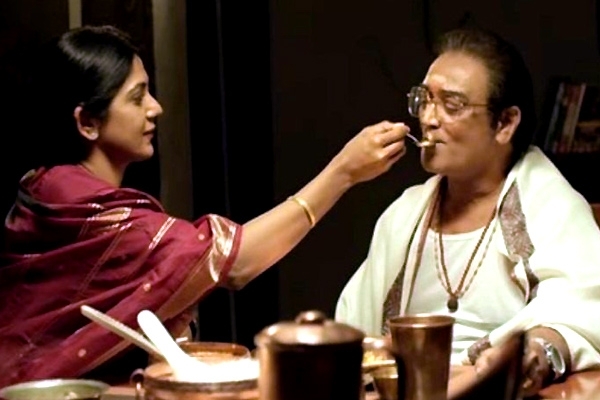 The first half of Lakshmi's NTR will test the patience of the audience and is laced with a bunch of unwanted episodes that make no impact. The songs have been badly placed and poorly presented. The film features a bunch of new actors and most of them failed to live up the expectations with their performances. The first half has no impressive episodes and is loaded with unwanted stuff.
The second half has a bunch of interesting and controversial episodes that are shown in the trailer. Couple of songs have been shot well. The actor picked up to essay the role of NTR is no match and his closeup shots will leave the audience irritated. The last half an hour goes on a dead slow pace and will test one's patience. Except for a couple of impressive episodes, the second half of Lakshmi's NTR too makes no impact.
Lakshmi's NTR
P

erformance :
Lakshmi's NTR features a new set of actors. Ram Gopal Varma has been successful in matching them on screen but most of them underperformed and failed to deliver out a power-packed performance in the film. RGV managed to create controversies with the content but the performances have been pathetic. Though the characters essayed by Chandra Babu and Lakhsmi Parvathi looked ok, the actor who essayed the role of NTR was horrible. RGV tortured the audience with his closeup shots. Most of the actors know nothing about performance and looked bad on screen.

Lakshmi's NTR has no convincing plot and is adapted from the controversies of NTR's life story. The screenplay and dialogues look pale and make the film even worse. The cinematography work and the music, background score fail to live up the expectations. The production values remind the audience of a B grade film. Ram Gopal Varma, as usual, fails badly with Lakshmi's NTR and the film will end up as a dud.


Final Word:


Ram Gopal Varma as predicted preferred controversies rather than penning interesting stuff. Lakshmi's NTR is one film that offers nothing.
Lakshmi's NTR Movie Review, Rating, Story