Gautam Nanda is the story of Gautam (Gopichand) who is the son of a multi-millionaire Vishnu Prasad. While leading a luxurious life, an unexpected incident changes Gautam after which he starts searching for his real identity. It is during this time, he meets Nandu (Gopichand) who comees from a lower middle class family in Hyderabad. With an interesting interval bang, the rest of Gautam Nanda is all about the real sides of Gautam, Nanda and where do Spoorthi (Hansika) and Mugdha (Catherine) fit in the film. Watch Gautam Nanda to know about many unexpected truths.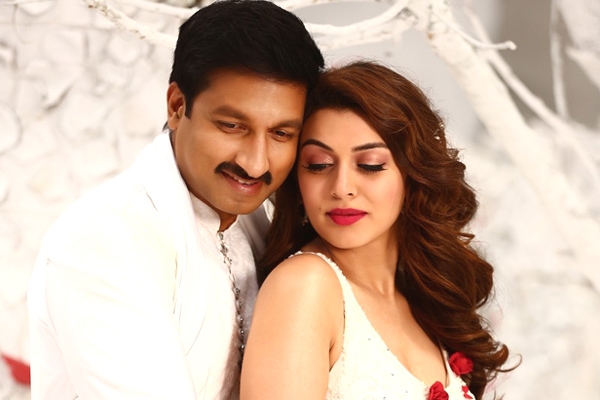 The first half of Gautam Nanda has been extremely impressive and is packed with all the commercial ingredients. The movie is a treat for Gopichand's fans and mass movie lovers. With some packed action, stylish presentation and impressive songs laced with loads of entertainment, Gautam Nanda raises the expectations. The interval episodes have been presented well and keeps the expectations up on the second half.

The second half of Gautam Nanda has been passable however it has been extremely predictable. Some of the family emotions look fake and are forcible. The switching of identities look decent but the way they have been treated looks outdated. The pre-climax episodes look completely fake and they have not been convincing. The climax looks dragged, pale and pointless. On the whole, the second half of Gautam Nanda will not appeal to all the sections of the audience.
Goutham Nanda
P

erformance :
Gopichand has been extremely energetic and stylish throughout the film. The actor did his job with ease and his performance is one of the film's major assets. Hansika has been decent and her songs have been shot extremely well. Catherine is a huge asset for the film and she looks ultra glamorous throughout the movie. All the other actors looked decent in their assignments.

The story of Gautam Nanda has nothing interesting except couple of good twists that surprise the audience. The first half has been well written however the second half fails to make much impact. The music and the background score are the major highlights of Gautam Nanda. The cinematography has been good and the production values look lavish. Sampath Nandi falls short in churning out Gautam Nanda into a blockbuster.


Final Word:


Gautam Nanda has an interesting first half but fails to make it big with the second half. Gopichand tops the show with his flawless performance.
Goutham Nanda Movie Review Rating Story