Katamarayudu is all about Rayudu (Pawan Kalyan) who happens to be the head of a village based in Rayalaseema. Mostly concerned about the people and his brothers, Rayudu is in no mood of getting married. It is during this time, his brothers (Siva Balaji, Ajay, Kamal Kamaraj and Chaitanya Krishna) spot Avanthi (Shruti Haasan) and start the track. The rest of Katamarayudu is all about how Rayudu manages to solve all the problems in his village and win his lovefor Avanthi. Watch Katamarayudu to know about the complete story.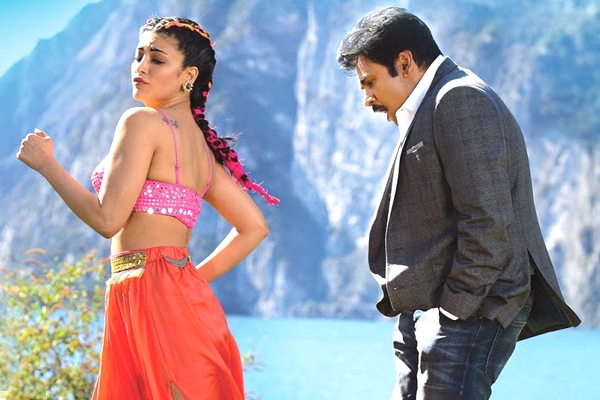 The first half of Katamarayudu looks completely racy and it has been filled with loads of entertainment. Pawan Kalyan stands tall with his performance and steals the show completely. The action episodes have been completely top notch and they have been convincing. The songs have been placed well but not pleasing to hear. The interval episodes have been decent and on the whole the first half of Katamarayudu makes a massive impact across the audience.

The second half of Katamarayudu too managed to be decent however the levels of entertainment dip down. On a predictable note, Katamarayudu has been focused completely on the revenge drama and love story. The pre-climax episodes bring back the film to track and on the whole the second half of Katamarayudu has been good but predictable.
Katamarayudu
P

erformance :
Pawan Kalyan steals and leads the show with his stupendous performance throughout. His presence in traditional attire has been stunning on screen and his comic timing looks completely decent. He carried the entire film on his shoulders. Shruti Haasan has been completely traditional and she has been the best option as Avanthi. Siva Balaji, Ajay, Chaitanya Krishna and Kamal Kamaraj as Pawan's brothers have been convincing and they supported the film well. Pradeep Rawat and Rao Ramesh managed to elevate the film with their performances.

The story of Katamarayudu has nothing much new to reveal. The screenplay and the dialogues are the other highlights of the film. The music has been decent and the songs have been placed well. The cinematography is the major highlight of Katamarayudu and the production values make the film look grand. Kishore Pardasani took his time to transform the script well and he narrated the film with utmost perfection.


Final Word:


Katamarayudu is Pawan Kalyan's one man show which strikes at the box-office this summer. Decent narration, passable entertainment and the grand technical aspects make Katamarayudu an impressive entertainer to be watched this weekend.