Moving on to the story, Hero Victory Venkatesh (ACP Krishna aka Babu Bangaram). He is an compassionate cop and kind hearted person, but cannot tolerate when other's are suffering. One day 'Krishna' saw the gorgeous actress Nayanathara (Sailaja) is working hard, who runs a mess. She is the daughter of Jaya Prakash (Sastry) where the family depends on her earnings. Then, Krishna decided and tries to help her. Later on, slowly he tries to be a part in her family and proposes her for which she is positive. The situation makes her brother-in-law Thirty Years Prudhvi (Batthayi Babu) hyper anger to marry her, beside makes a mess in her home leaving oldie end in hospital. To see his mother Sailaja's absconding father comes to the hospital and their family comes to know that, its an planned sketch penned by ACP Krishna to nab Sastry. Wonder? Why is Sastry absconding?? To know what could be the next, watch the movie and rest of the story in theaters.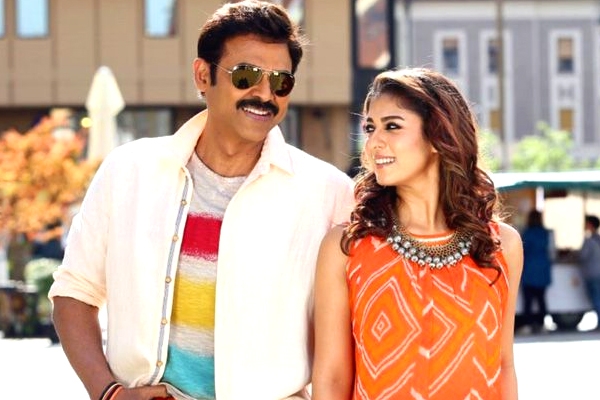 As always Venkatesh nailed it with his styles. Venky's lengthy comedy with Prudhvi and different histrionics are the main reasons that made audience to sit back in the theater seats. The movie was good till the interval where it went smooth, entertaining and had time pass added smile on the face. After the interval, the movie runs into predictable mold, the flimsy storyline takes a back seat and we get to watch the little issue of Posani's video in which his affair with a lady is recorded. In fact, this game of Posani doing anything to have the video is stretched beyond a point. This has diluted the story. The introduction of comedian Brahmanandam, and endeavoring to make Posani a bakra, etc.,  are quite mediocre.

Overall, the first half of the movie is its asset with its comedy. But the second cracks with silly comedy scenes, lacks entertainment.
Babu Bangaram
P

erformance :
Venkatesh as usual with his mannerisms gave his power pack performance to entertain family audiences. ACP Cop role that has a bit high dosage of kindness, compassionate despite being a police officer. Sailaja role of Nayanathara's is fantastic, she is gorgeous on screen and killed with her eye expressions. Thirty years Prudhvi is hilarious, gave his good efforts and highly entertaining despite some flaws. Vennela Kishore is always an plus, gave his best entertaining thoroughly. Posani is nice. Jaya Prakash played a good role being Nayanathara's father. In the second half Brahmanandam gave his debut is okay. Sampath Raj is good. Other artists are fine.


Final Word:


Simply can verdict in an line- "A One time watch movie".
Babu Bangaram Movie Review