Raghava(Lawrence) is a cameraman and he works for a famous tv channel. He is very scared of ghosts and one fine day he will be posted alongside his creative director Nandini (Taapsee) to cover a story based on a haunting guest house. He along with his unit reaches the place and starts shooting for their television show. The movie gets interesting when Nandini finds a sacred thread which changes her life completely. She gets possessed by an evil which troubles Raghava too. The rest of the film is about the story of the evil spirit and how they get rid of the evil.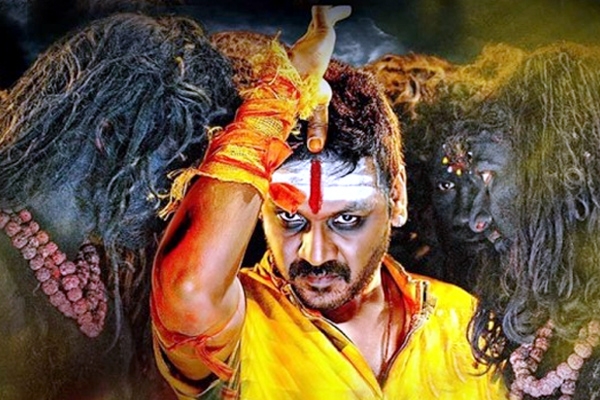 The first half of the film is highly entertaining and interesting. The pace of the film is superb and smooth that the film completes in no time. The interval bang has a blast and leaves everyone in surprise. On the whole the complete first half has been terrific.

The second half of the film is quite opposite and is like disappointing. The movie dips badly down and the flash back episodes have been shot well with interest. The movie picks up again and the climax of the film has been quite simple. On the whole the second half is  a downfall when compared to the first half but it was OK.
Lawrence who played the main lead in the previous instalments has performed to the core all over. His comedy timing has been entertaining. Tapsee steps out of regular and commercial format and delivered an outstanding performance with her character. Nithya Menen is pretty good in the role of an handicapped girl and brings a lot of relief whenever she is on screen. The way Lawrence has executed her character in the second half has been exceptional. All the other characters have been decent with their performances.

The story of the film has nothing new and is similar to the first two instalments. The screenplay and the dialogues of the movie have been interesting especially the flash back episodes. The editing and the music along with the back ground score have been decent. The cinematography of Ganga is one of the highlights and the visuals along with the graphics have been projected well. The production values have been grand enough and Lawrence has been successful in bringing out a mass entertainer.


Final Word:

Ganga is an out and out mass entertainer. The movie can be watched for the hilarious first half and the performances by the lead actors.