Bajirao Singham (Ajay Devgn) is still the strict, disciplined cop who believes in changing the society more than punishing. He has his own norms of functioning but it is expected of him that he tones down. Afterall, the supercop is now posted in Mumbai. He is given the responsibility of providing protection to Guruji, a political stalwart who dies under his custody.

Soon after, his head constable is found with crores of rupees in a van, dead! Singham traces all of this to the alliance party who weren't satisfied with the main party's agenda of supporting youth power in politics. He wants to take them to task. But it isn't that easy for him to disband the men in power. After the death of the stalwart in custody, Singham resigns. Bruised and down on morale, will Singham rise to avenge? Does he defeat the men in power and how is what the film's story traces.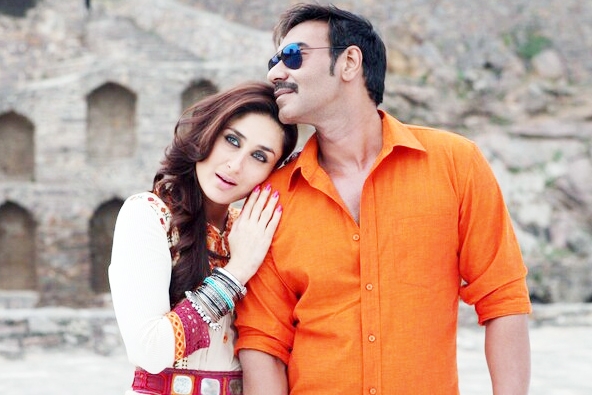 There is no new script in place because the film hardly differs from the previous one. If it's anything, it is a step backwards in terms of action, romance, drama and story. Given that it is a Rohit Shetty film, the action was memorable only in parts. Except introducing a few new plots, Singham Returns gives you nothing new to savor. The few laughs seem deliberately induced and more unintentionally created.

The predictability of the narrative harms the film even more. The death of the man whose mom is zoomed upon constantly is always the prime victim for charcater death in a commercial film! Understandable, but one would expect some changes given we aren't in the 80s and 90s anymore. A man in coma, refusing to wake up almost throws you into a comatose state. Anything else is a diversion as the script relies solely on Ajay to work. Allured by Singham? This is your film. That's it and that's all sadly.
Ajay Devgn is better in terms of performance since his last stint at playing Singham. He is marvelous and keeps the film flowing thick despite visible discrepancies. Kareena Kapoor is used as a mere distraction in the film. Her comedy isn't very funny. Her action seems forced and her emotions seem fake. She is pleasant face on screen who offers some respite sometimes but the actress doesn't grab noteworthy attention in the film.

Anupam Kher does a good job. So does Mahesh Manjrekar, who quite slips well in the roles of political stalwart and state CM. Coming to the editing, the male strip show in the pre climax shot as well as the slow mo walks of Singham with the thunderous background score could have been considerably cut short. Otherwise the film is kept tight. The music is forgettable but probably the sparsely thrown in brilliant action helps the cause. The director and his team played safe and doesn't tamper with any of the essentials making a sore replica of the last film.

Final Word: Singham Returns doesn't match up to Singham and that is the failure of this franchise venture. It is definitely a very watchable film with Ajay putting in his best foot forward in a role that brings out his caliber to the fullest but for those who are expecting a Rohit Shetty fun watch, this film is neither immensely entertaining or superbly enjoyable. The action doesn't offer anything new and the drama is too superficial for my taste. It is just about average and for Singham fans.