Mirzya is an epic love saga which has been based on Punjabi folklore Mirza Sahiban. Mirzya is all about two love stories set in different eras play out in the highly poetic Mirzya. The first is set in the ancient times where clan wars and men on horseback battling with bows and arrows are common and the other is a forbidden courtship is set in the contemporary times where a modern prince has created a business empire by converting his palace into a hotel. Watch Mirzya to know about what happens completely and exactly.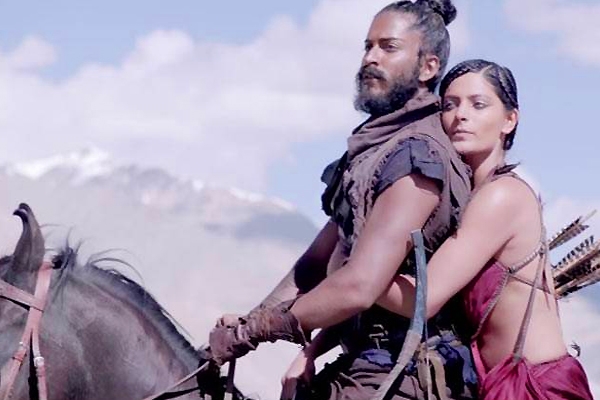 The first half of Mirzya starts with a bang and the movie has its loud moments. It is Rakeysh Omprakash Mehra's narration that has been grand and loud all over. It never lets you down and the performances throughout the film take Mirzya to the next unusual level. It is the screenplay which makes the film interesting on the whole. The interval episodes raise the heat all over and on the whole the entire first half of Mirzya is a treat.

However the second half has a huge dose of drama which makes the film fall down. Though the performances by the lead actors elevate the film once again, the film fails to make much impact. However it is again Rakeysh Omprakash Mehra who takes the film to the next level with his technical predictabilities. Some of the episodes have been well written and presented stupendous on screen which makes us forget about the flaws in the second half. On the whole the second half of Mirzya has been decent and is worth watching.
Harshvardhan Kapoor is the most surprising element of the film and he excelled completely with his brilliant performance. He showed enough variations throughout the film and he never seemed of a debutant with the film. His eyes can speak million words and Harshvardhan Kapoor comes out with a honest performance and is one of the best debuts in the recent times. Saiyami Kher is real and unstoppably vivacious. She excelled completely in the assigned role and is the other highlight of the film. Anuj Choudary has been arrogant and Anjoli Patel has been impressive in the crisp role. All the other actors delivered out their best with the film.

The story of Mirzya has been simple but it is the screenplay and the dialogues which make the film engaging and impressive. The music and the background score have been highly elevating. The cinematography is an asset for the film and the production values have been grand and rich. Rakeysh Omprakash Mehra impresses the audience big time with his flawless narration.


Final Word:


Mirzya is a poetic experience and can be given a shot for the stupendous performances and flawless narration. Harshavardhan Kapoor makes an impressive debut as an actor.
Mirzya Movie Review