Great Grand Masti is the story of Meet Mehta (Vivek Oberoi), Prem Chawla (Aftab Shivdasani) and Amar Saxena (Ritesh Deshmukh) who try to add spice to their boring and dead married lives. During this time the trio decide to set out a journey with Shabari (Urvashi Rautela) and they woo her for attention. They get trapped by Shabari as she is a ghost who is longing for lust. It was during this time, their wives try to teach them a lesson. The rest of the movie is how they escape from Shabari and how they escape from the lust. Watch Great Grand Masti to know about the rest of the film.
Great Grand Masti
A

nalysis :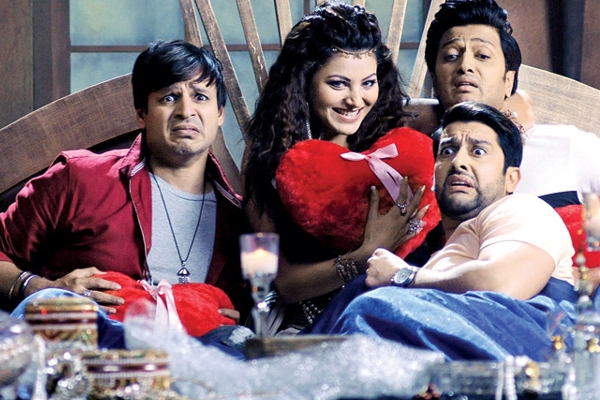 Great Grand Masti comes with huge expectations as the first two from this genre have been massive hits. The first half of the movie has been just below the average line as the film lacks the interesting and some rib tickling comedy. Though the performances by the lead actors has been decent and interesting, the film lacks the gripping narration and an interesting plot. On the whole the first half of Great Grand Masti fails badly in making the audience engaging though it has entertainment at parts.

The second half too takes the same role and it fails to impress the audience. The plot has enough flaws and one can easily know that they have been faked out completely. The songs have been bad and there is rarely a song that has enough melody. The average technical aspects fail to elevate the film and the climax ends up on a predictable note. On the whole, the second half of Great Grand Masti too has nothing much to offer.
Great Grand Masti
P

erformance :
Vivek Oberoi, Aftab Shivdasani and Ritesh Deshmukh have been habitual of sex comedies and they excelled in the assigned roles with enough perfection. Misthi, Pooja and Shraddha who played the wives fail to meet up their expectations in the film. Urvashi Rautela has been glamorous enough and showed off her curves but her acting skills have been just average. All the other actors have been decent and engaging.

The story of the movie is the biggest misfire as it lacks interesting story line. The basic line has been taken from Masti and it has been penned with enough flaws which make the film fall flat. The screenplay and the dialogues have been just ok. The music is a huge disappointment and the cinematography work has been average. The editing has been ok and the production values have been grand enough. Indra Kumar who succeeded with the first two instalment fails with the third and crucial one completely.

Final Word:

Great Grand Masti fails to make some impact after two successful instalments. The movie lacks proper script and engaging narration. Great Grand Masti ends up as a huge disappointment.