Two sisters Laila and Lilly (dual roles played by Sunny Leone) run a sexual rehabilation centre in Bangkok. Laila comes with a modern touch sporting a bikini with her bikini show and Lily is an opposite of Laila and prefers to be traditional. Sunny Kele (Tushar Kapoor) and Aditya Chotiya (Vir Das) are two friends who own an advertising agency making commercials on sexual content. While Sunny and Aditya are always interested in girls, they spot Laila and Lily after which decided to love them and get married. The rest of the film is about what happens next. Watch Mastizaade for the complete story and to known what happens next.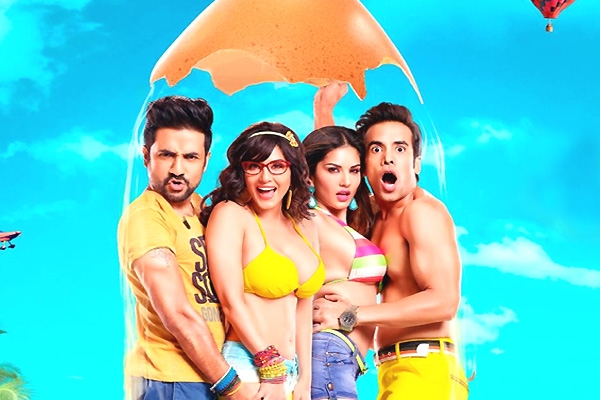 The first half of Mastizaade has nothing much to reveal about the plot and the narration. It is like a Sunny Leone's skin show throughout the film. The complete plot has been sidelined and the makers wanted to make full use of casting Sunny Leone in a dual role for the movie. Though Tushar Kapoor and Vir Das tried to entertain the audience, it did not stay longer. On the whole the complete first half had Sunny Leone's show throughout.
Mastizaade carries the same flavour throughout the film. The second half of the film too reveals nothing much and in addition most of the scenes have been dragged too much that they irritate the audience. The camera has been kept towards Sunny Leone for the entire film which tests the patience of the audience. On the whole the complete second half has been driven out of expectations and makes the film fall flat.
Sunny Leone, the sensation and trending lady across the country made sure that she delivered out her best through Mastizaade. She has been ultra glamorous and her stunning screen presence is the major highlight of the film. Tushar Kapoor comes up with a similar role which has been shown in his previous films. Vir Das entertained the audience with his funny one liners and his comic timing is a huge asset for him. All the other actors have been decent and entertaining with their assigned roles.
The story of Mastizaade offers nothing and is absurdly inept. The screenplay lacks interest and the narration of the film has been pathetic. The dialogues have been below the average line except some funny one liners. The cinematography has been eye catchy and colorful. The music has been apt and so is the background score. The production values have been rich enough but the director failed to come out with an engaging and interesting film, he preferred showcasing Sunny Leone in a glamorous avatar which has been shown earlier.
Final Word:
Mastizaade is a film that has nothing new except Sunny Leone's glamorous treat all over. It can be completely ignored.