PK (Aamir Khan) is an Alien who comes from a different world and he finds humans different. He loses an interesting locket which makes him stay on the earth. Jaggu (Anushka Sharma) a journalism student from Belgium spots PK and finds him interesting. She slowly comes to know about him and the rest of the movie is how PK solves his problems and returns back to his world.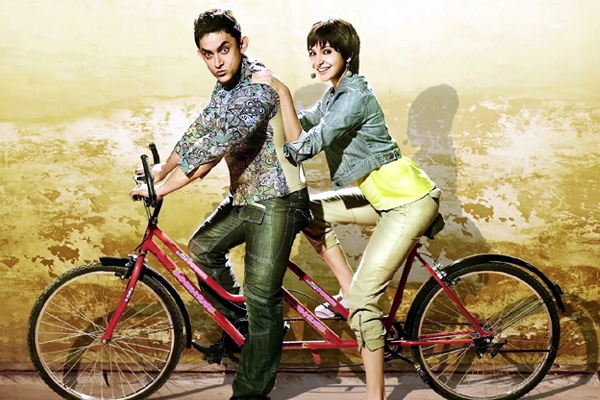 The first of the film starts with lot of interest right from the beginning and maintains the tempo. The comedy one liners bring lot of laughs and the story has been revealed in a sensible way. The movie gets on interesting and the first half ends on a highly impressive note.

After a tight and gripping first half, the movie witnesses a downfall in the later half which should have written with care. The narration has been boring however the movie picks up at times but falls down again. The climax of the movie impresses good which makes the second half decent.
Aamir Khan who is known to be Mr Perfect has done perfect justice for the role of PK. The hard work put by him will be clearly seen on the screen and he is the highlight of the film. Anushka Sharma has done a challenging role and she impresses with her performance. Saurabh Shukla, Boman Irani, Sanjay Dutt and Sushanth Singh Rajput have fit into the assigned roles.

The story of the film has lot of scope to enlarge and narrate. The screenplay and the diolagues have been impressive but in the second half they are good at times. The music and the background score need a special mention which elevates the movie. The photography has been fantastic which captured every scene colorful. The production values have been grand enough and the director has been excellent in directing the movie and he elevated the movie at the right time and the exact point.

Final Word:

PK is sure a box-office winner. Aamir Khan steals the show with his performance. A well written second half could have done wonders at the box-office for sure. On the whole PK is a worth watching film.