Pawan Kalyan praises Baahubali: The Conclusion
Posted: 05/08/2017 12:57 PM IST
(Image source from: Pawan Kalyan praises Baahubali: The Conclusion)
Young Rebelstar Prabhas teamed up with top director SS Rajamouli for the movie Baahubali. The first instalment Baahubali: The Beginning is a massive hit and the second instalment Baahubali: The Conclusion has been winning the hearts of the audience all over Prabhas, Rana Daggubati, Anushka, Ramya Krishna, Tamannaah, Satyaraj and Nassar played the lead roles in the movie. The movie received wide response all over and is the first Rs 1000 crore film in the history of Indian cinema.
Baahubali: The Conclusion has been receiving praises from all the corners of the country and several celebrities have been praising the film. Arka Media Works produced Baahubali: The Conclusion and Shobu Yarlagadda, Prasad Devineni bankrolled the film. Powerstar Pawan Kalyan took twitter to praise the film. He congratulated SS Rajamouli, Prabhas and Rana Daggubati for his work for Baahubali: The Conclusion. Here is his response about Baahubali: The Conclusion:
"My Heartfelt congratulations to Shri Rajmouli,Shri Prabhas &team for their stupendous success of. Bahubali and achieving the 1000 crore mark. Shri Rajmouli with his years of hard work ,tenacity & dedication made alll of us proud.. I wish him many more achievements like this.And my heartfelt wishes to Sri Rana daggupati & other actors and my heartfelt congratulations to Producers& technical team".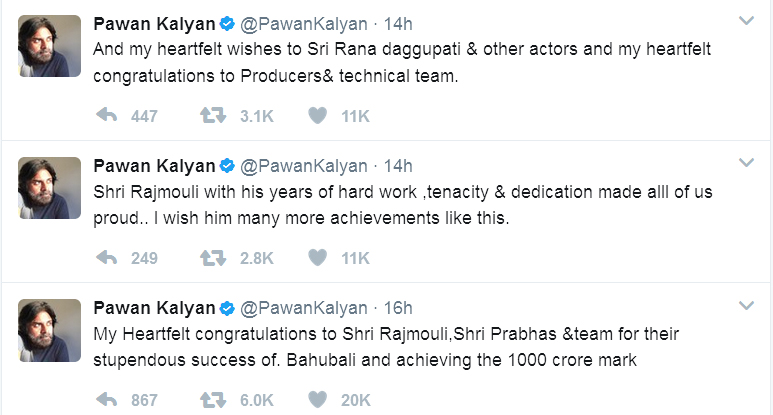 If you enjoyed this Post, Sign up for Newsletter
(And get your daily news straight to your inbox)