NOTA is all about Varun (Vijay Devarakonda) who is unaware and is not bothered about the political happenings of the country. He is a spoiled brat and prefers to party despite of being the son of a Chief Minister (Nassar). Right after his father lands in legal troubles, Varun has been asked to take the oath as Chief Minister. A confused Varun struggles initially to stand tall but he later takes on the latest political happenings in the state. Watch NOTA to know about the hurdles and challenges that Varun faces as a Chief Minister.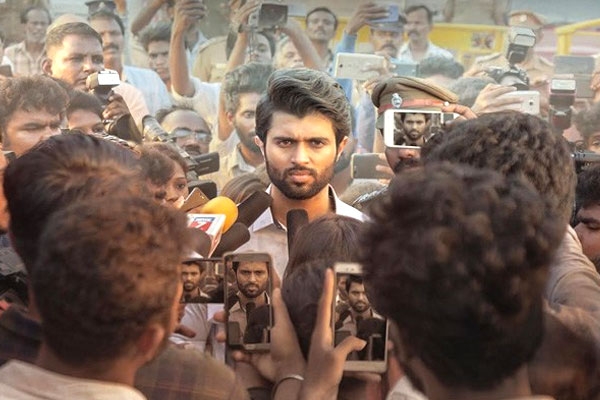 NOTA starts on an interesting note with an interesting song narrating the characterization of Vijay Devarakonda as Varun. Things take a serious note soon and the film narrates about the political situations in the country. However the film lacks the much needed soul and NOTA first half has been filled with several unwanted episodes that make no impact. The songs are sure speed breakers and they should have been ignored. On the whole, the first half of NOTA falls short of expectations.
The second half of NOTA falls flat while it discusses about the contemporary politics. The film has been losely penned and lacks natural appeal. Most of the episodes have been rushed and several unwanted episodes take the major lead. The songs once again make no impact and the climax episodes look completely fake. The climax ends on a simple note.
Vijay Devarakonda is a treat for his fans and masses. The actor shines in the assignment though his character has been badly penned. The actor during the second half turns out to be the savior despite of the pale narration. Mehreen's role has been restricted and she plays a journalist in NOTA. Nassar plays an interesting role and as usual he has been decent in the assignment. Satyaraj delivers a top notch performance and his role will be remembered. All the other actors have been decent.
NOTA has no exciting story and is a losely penned and pale political drama. The screenplay and the dialogues fall short of the expectations. The music and the background score too fail to make much impact. The cinematography work looks decent and the editing has been decent. The production values have been good but director Anand Shankar fails in all the available ways to make NOTA an impressive political thriller.
Final Word:
NOTA is one of the poorly written political dramas that fall flat because of the bad writing and predictable narration. Vijay Devarakonda looks good.
NOTA Movie Review, Rating, Story