Siddharth (Nara Rohit) is a young and talented director who leads a happy life. Things change completely after he gets arrested because of the murder of his wife (Darshana). Top public prosecutor Veerendra (Jagapathi Babu) will be hired to bail out Siddharth from the case. The real twist arises after the story takes an unexpected turn and the rest of Aatagallu is all about the real culprit behind the crime. Watch the film to know about the complete story.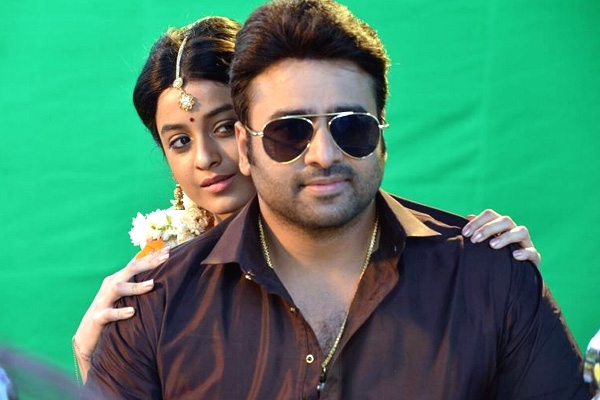 Aatagallu fails to thrill the audience right from the first frame. The narration has been old fashioned though the film has an interesting plot. The entertainment has been below the par and the supporting cast have not been picked up well. The songs are pathetic and there has been no great support in terms of technical aspects. The interval episodes raise the buzz again but the first half sounds horrible.
The second half continues to leave the audience frustrated and the unwanted entertainmant track leaves the major plot behind. The entire second half is a huge mess except some interesting twists that are revealed at the wrong time. The pre-climax episodes have been completely horrible and they hardly make any impact. On the whole, Aatagallu is a film that can be given a skip completely.
Nara Rohit looks quite bulky on screen and he needs to cut down his weight at the earliest, else he will be vanished. Jagapathi Babu does well in his assignment and his character has been well penned. Darshana makes an impressive debut and she has been decent in the emotional episodes. Her screen presence has been stunning. Subbaraju delivers out one more best performance as a spoiled cop. Brahmanandam's comedy is an utter disaster. All the other actors performed well.
Aatagallu has an interesting plot. The poorly written screenplay, dialogues and the worst execution kills the film completely. The music and the background score will disappoint the audience completely. The cinematography work too fails to stand out and the production values have been pathetic. The editing work is a disaster as the film has several unwanted episodes. Paruchuri Murali has been left behind in his 90s and his direction makes Aatagallu an all time disaster.
Final Word:
Aatagallu is one of the biggest disasters in Nara Rohit's career and the film falls flat right from the first frame.
Aatagallu Movie Review, Rating, Story