Raja The Great is the story of Raja (Ravi Teja), a visually challenged guy who is well trained and skilled enough. Lucky (Mehreen), a dotting daughter of cop (Prakash Raj) lands into trouble and the entire story shifts to Darjeeling. Raja takes the responsibility to rescue Lucky and Raja The Great is all about the connection between Raja and Lucky, how he manages to rescue her from deadly goons only with his sensory capabilities alone. Watch Raja The Great to know about the complete story and what happens finally.
Raja The Great
A

nalysis :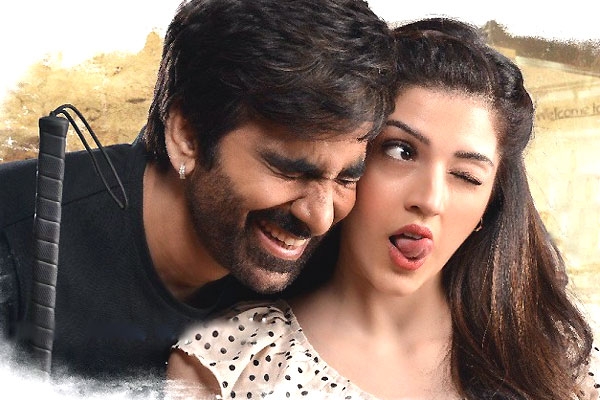 Raja The Great has an engaging and entertaining first half throughout. Ravi Teja tops the show with his flawless dialogue delivery throughout. Sreenivas Reddy has been extremely supportive and their comical timing leads the show throughout the first half. The action episodes have been shot well and the songs have been extremely colourful. With an interesting interval bang, Raja The Great first half has been completely interesting and the audience look through for the second half.
The second half of Raja The Great too has been well narrated and the racy screenplay makes the audience watch the film with eager. Though the film turns predictable and dragged at times, it picks back soon leaving the audience excited. The songs look decent and they have been placed well. Though the levels of entertainment come down for a while, the emotional content and the action episodes takes the lead. On the whole, Raja The Great has an engaging second half and is worth watching.
Raja The Great
P

erformance :
Ravi Teja has been outstanding with his performance as Raja who is called Raja The Great. He has been flawless as a blind man and his expressions have been top notch. Mehreen has been extremely expressive and she looks beautiful on screen. Radhika and Prakash Raj carried the emotional content well and Sreenivas Reddy tops the show with his entertainment. All the other actors turned out impressive with their assigned roles.
The story of Raja The Great has been inspired from many films but the treatment of a blind man with sensory capabilities have been well written. The entertainment has been well indulged into the film with the characters throughout. The songs and the background score are the film's assets and the cinematography has been eye catchy. Grand production values makes the film look colorful and Anil Ravipudi is back with one more commercial entertainer that has been laced with loads of entertainment throughout.
Final Word:
Raja The Great is sure a decent emotional entertainer that has been laced with right amounts of entertainment along with action. Ravi Teja has been outstanding with his performance throughout the film.
Raja The Great Movie Review Rating Story