Raju Gari Gadhi 2 is a ghost story and is about three friends played by Vennela Kishore, Ashwin Babu and Praveen who purchase a sea faced resort investing huge money. Soon they realize that the resort is haunted by a ghost. They then comes to know about Rudra (Nagarjuna) a mentalist who makes his entry. Raju Gari Gadhi 2 is then about how Rudra pulls out the roots of the ghost and its relation with Amrutha (Samantha) and Suhasini (Seerat Kapoor). Watch Raju Gari Gadhi 2 to know about the complete story.
Raju Gari Gadhi 2
A

nalysis :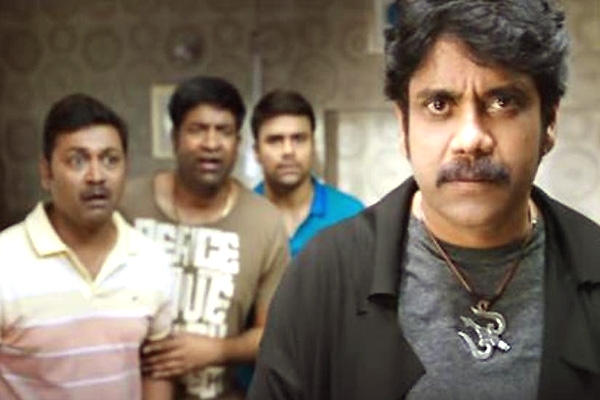 Raju Gari Gadhi 2 has an interesting first half which has been laced with loads of entertainment. Once the movie makes it into the concept, the film turns racy and Nag tops the show. His episodes with ghosts have been completely convincing and the entire first half of Raju Gari Gadhi 2 is a treat to watch. Top notch background score and the lavish production values are the major assets for the film. The interval episodes have been completely appealing.
After an entertaining first half, the second half of Raju Gari Gadhi 2 takes a turn. Surprisingly, the film switches to an emotional genre and it turns slow. However Samantha's flash back episodes turn out impressive and are the highlights of the film. Raju Gari Gadhi 2 has a predictable second half but a hard hitting climax that packs the audience emotionally for twenty minutes make the film end up on an impressive note. On the whole, the second half of Raju Gari Gadhi 2 sounds good.
Raju Gari Gadhi 2
P

erformance :
King Nagarjuna is the major highlight of the film and his character has been written, designed and presented well. He performed with ease and has been completely convincing. Samantha is the other backbone of Raju Gari Gadhi 2 and she carried the entire second half on her shoulders. The emotional drama and Samantha's performance during the climax makes the film a winner. Vennela Kishore, Shakalaka Shankar, Praveen and Ashwin Babu have been entertaining. Seerat Kapoor has been extremely glamorous throughout.
The story of Raju Gari Gadhi 2 looks decent and has been inspired from Pretham. The screenplay and the dialogues looks decent. The cinematography and the background score are the major assets of Raju Gari Gadhi 2. The VFX work looks decent and has been well used when needed. The production values look lavish and Omkhar steps out with one more convincing and impressive horror comedy.
Final Word:
Raju Gari Gadhi 2 is sure an impressive and decent film which will appeal because of the entertainment and emotional episodes. Nagarjuna and Samantha steal the show with their spectacular performances.
Raju Gari Gadhi 2 Movie Review Rating Story