Nene Raju Nene Mantri
S

tory
Nene Raju Nene Mantri is the story of Jogendra (Rana Daggubati) and his journey in politics. The film opens up with Jogendra brought to Anantapur central prison for death penalty. He reveals his last wish to telecast his entire life story on television. After the court approves, the story unfolds. Nene Raju Nene Mantri is all about the situations that led Jogendra to turn politician building his career in politics. The rest of the film is all about his journey and where his wife Radha (Kajal Agarwal) and tv reporter Devika Rani (Catherine Tresa) stands. Watch Nene Raju Nene Mantri to know about the film.
Nene Raju Nene Mantri
A

nalysis :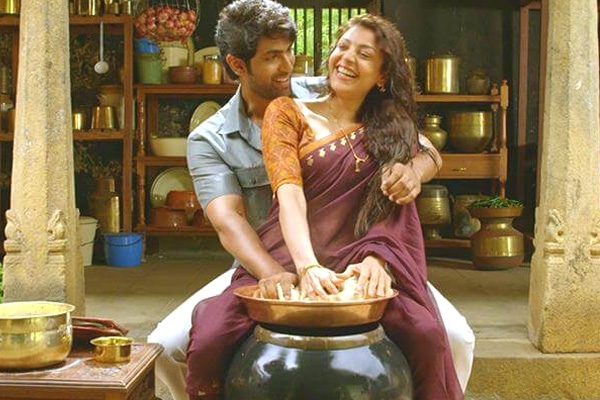 Nene Raju Nene Mantri starts with a bang and it narrates the hard hitting character of Jogendra. Some of the episodes have been well presented and Rana's performance takes the film to the next level. The songs and the love story has been penned well and the chemistry between Rana and Kajal is a treat to watch on screen. With a powerful interval episode, Nene Raju Nene Mantri is a treat with some interesting plot and engaging narration.
The second half of Nene Raju Nene Mantri dips down completely as the film offers nothing much. The overdose of sentiment and the slow narration makes the film fall flat. The songs too disturb the film's pace as they placed in the wrong time. The poor climax and a predictable narration makes Nene Raju Nene Mantri a below average flick.
Nene Raju Nene Mantri
P

erformance :
Rana Daggubati has been outstanding as Jogendra and he performed to the core. He has been extremely energetic and steals the show. His powerful presence and dialogue diction are a treat to be watched on screen. Kajal has gorgeous on screen and her chemistry with Rana has been well presented. Navdeep steps out with an interesting role and he delivered out his best. Catherine has been predictable however she did her role with perfection. All the other actors have been decent.
The story of Nene Raju Nene Mantri has been decent but it is the witty screenplay throughout the second half that spoils the film's flow. The music and the background score sounds decent and the cinematography has been top notch. The production values look grand and Teja once again falls short in delivering a blockbuster with Nene Raju Nene Mantri.
Final Word:
Nene Raju Nene Mantri is one film that has an exceptional first second half but the most important second half has been badly executed. Rana tops the show.
Nene Raju Nene Mantri Movie Review Rating Story