Ninnu Kori is the story of Uma Maheswara Rao (Nani) who is a PhD student in Vizag. He meets Pallavi (Nivetha Thomas) accidentally, after which the duo falls in love. By the time Pallavi wants to get married to Uma, he feels that's an early decision. As time passes, Pallavi gets married to Arun (Aadi Pinisetty) and shifts to USA. It is during this time Uma gets back into their life and the rest of Ninnu Kori is all about what happens next. Watch the film to know about it.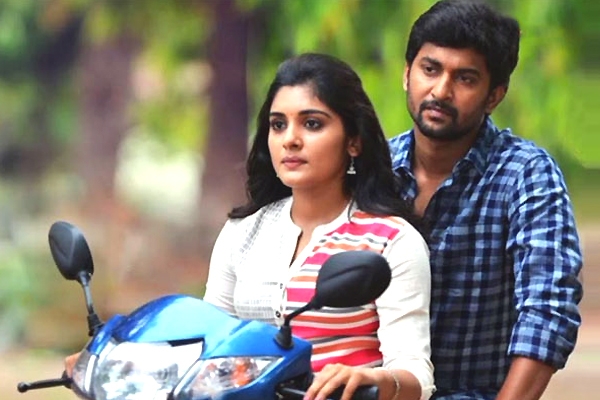 Ninnu Kori is a film that has a new genre completely. Right from the first frame, the film has been convincing. The fresh narration will sure take you to a different world and the performances should have a special mention. Right at the time, the film is going down, an interesting episode twirls the film. Though the plot has been predictable, the treatment sure makes a massive difference. With some engaging love story and beautiful songs, the first half of Ninnu Kori is a complete winner.
The audience will sure eagerly wait for the first half during the break and the second half too carries the same feel throughout. The slow pace may feel you let down but the movie bounces back with the emotional drama which is the major highlight of Ninnu Kori. And when you have actors like Nani, Nivetha and Aadi on board, the audience will not be disappointed. The hard hitting climax shatters the audience leaving them connected with the feel even after the film completes. On the whole, the second half of Ninnu Kori makes the film a masterpiece.
Nani's success streak continues with Ninnu Kori and the film is the seventh hit of the actor in a row. The actor impresses the audience big time and he carries the film on his shoulders. His comic timing is once again a huge plus for the movie. Nivetha Thomas is sure one among the most talented actresses of this generation. Aadi Pinisetty is sure one actor who has been choosing interesting roles and Ninnu Kori is one among them. Murali Sharma and Prudhvi have been completely promising in their supporting roles.
Ninnu Kori has an interesting plot and it is the screenplay, dialogues that take the film to the next level. Written with conviction, Shiva Nirvana does his work with dedication and will sure make it to the list of top directors soon. The music and the background score have been apt and they elevated the film well. The cinematography is an asset and the film has some of the finest visuals. The production values have been grand and the performances take the film to the next level.
Final Word:
Ninnu Kori is one of the finest films Telugu audience have ever witnessed. Top notch performances and clean execution takes the film to the next level. A must watch.
Ninnu Kori Movie Review Rating Story