Shatamanam Bhavathi is the story of elderly couple Raghavaraju and Janakkamma from Achyutapuram, East Godavari district. Though they have everything in life, they look incomplete as their children who settled abroad hardly find time to spend time with this old couple. It is during this time, Raghavaraju comes out with an interesting step which leaves the whole family irked. The rest of Shatamanam Bhavathi is all about how the complete family gets united during the festival season and how things changed. Watch Shatamanam Bhavathi to know about the complete story.
Shatamanam Bhavati
A

nalysis :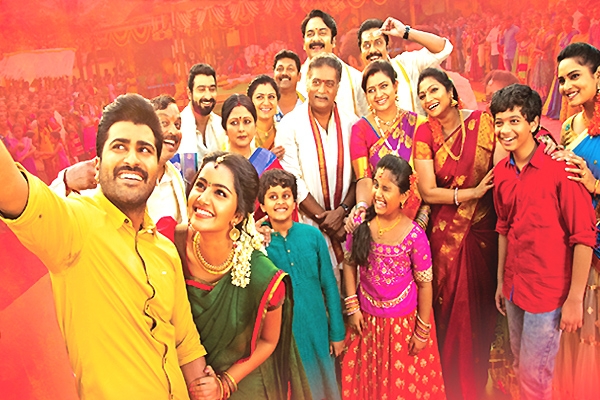 Shatamanam Bhavathi is hard hitting in emotional aspects and the performances by the lead actors take the film to the next unreachable level. The first half of the movie has been fresh with loads of entertainment and engaging content. The songs and the visuals look completely fresh and the entire first half has been engaging to the core.

The second half of Shatamanam Bhavathi has been filled with emotional drama and the performances by the lead actors take the film to the next level. The narration has been perfect and the levels of entertainment have been well managed. The songs once again have been refreshing and the climax of Shatamanam Bhavathi is the major highlight of the film. On the whole the complete second half manages to stand strong emotionally which is the film's major highlight.
Shatamanam Bhavati
P

erformance :
Sharwanand makes it big for the third time in a row and Shatamanam Bhavathi will end up as his biggest hit. He has been completely supportive and his smile makes many fall in love with the actor. Anupama Parameshwaran will sure make it big in Telugu and Shatamanam Bhavathi is the best example for it. Prakashraj has been completely fit and dominating throughout the movie. Jayasudha has been apt and she has been completely traditional and reminds us of our mother. All the other actors proved out their best with the film.

The story of Shatamanam Bhavathi has been completely perfect to be watched with the entire family. It is a treat for the audience and the screenplay, dialogues looked perfect for the film. The cinematography has been completely fresh and leaves us in visual treat. The music and the background score look completely fresh and they elevate the movie well. The production values look lavish and the director made sure that the entire plot has not been deviated.


Final Word:


Shatamanam Bhavathi is a perfect watch with your entire family and it will sure end up as one of the best films in the recent times. The lead actors shine with perfection with their performances. On the whole Shatamanam Bhavathi is a sure shot commercial blockbuster