Gautamiputra Satakarni
S

tory
Gautamiputra Satakarni is the story of the warrior Gautamiputra Satakarni who happened to be the king of Satavahana dynasty. He aims of ruling the country for a change which he dreamt right from his early age. The movie is said to be a periodic drama which has been filled with war episodes and is all about his emergence and dominance during the period. Watch Gautamiputra Satakarni to know about the movie.
Gautamiputra Satakarni
A

nalysis :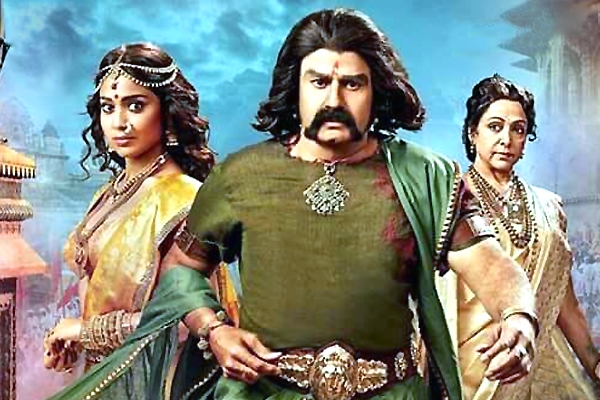 The first half of Gautamiputra Satakarni has been stupendous right from the first frame. Balayya performed with ease and his performance is the film's major highlight. The songs have been meaningful and they have been placed well. The interval episodes come with a bang and make a huge impact on the audience. On the whole the complete first half of them film lives up to the expectations and brings the heat on the second half.

With huge expectations, the second half of Gautamiputra Satakarni is a huge winner in all the aspects. The film races to the top and the war episodes make a massive impact. The emotional episodes have been presented well and the performances by the lead actors take them to the top. The pre-climax episodes make the film interesting and the climax of Gautamiputra Satakarni takes the film to the extremes. On the whole the second half of Gautamiputra Satakarni is a massive winner and impresses the audience big time.
Gautamiputra Satakarni
P

erformance :
Nandamuri Balakrishna is back with a bang with Gautamiputra Satakarni and the legendary actor roared throughout the film. His performance along with his dialogue delivery is the major highlight. Shriya Saran has been beautiful and impressive with her performance. Hemamalini has been completely impressive and she has been apt. All the other actors delivered out their best with their performances.

The story of Gautamiputra Satakarni is all about his life. The screenplay and the dialogues have been gripping and they have been written well. The music and the background score make Gautamiputra Satakarni interesting and they elevate the film well. The cinematography is one of the major highlights of Gautamiputra Satakarni and the production values have been lavish. Director Krish scores a huge commercial hit and his attempt has been completely honest.


Final Word:


Gautamiputra Satakarni is one of the finest classics of Telugu film industry till date. Balakrishna roars loud as a warrior and Krish makes Tollywood proud. A massive commercial hit.