Jayammu Nischayammu Raa
S

tory
Jayammu Nischayammu Raa is the story of Sarvamangalam (Srinivas Reddy) who hails from Karimnagar and aims for a government job. He is an ardent follower of Swamiji (Jeeva) and finally gets posting in Kakinada. He plans of getting a transfer to Karimnagar to take care of his ailing mother. It is during this time he falls in love with Rani (Poorna) after swamiji says that she is the lucky charm for him. Jayammu Nischayammu Raa is all about the shocking changes that change the fate of Sarvamangalam that forms the rest of the story.
Jayammu Nischayammu Raa
A

nalysis :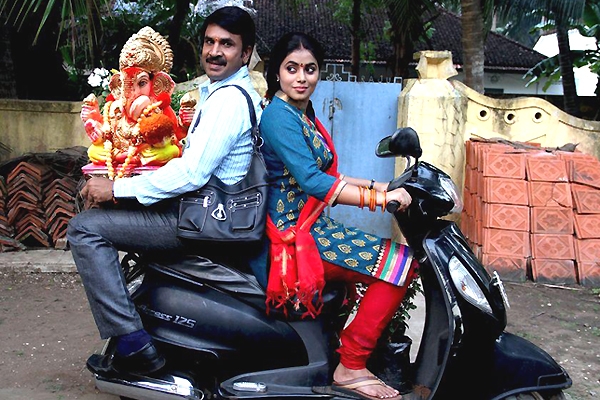 The first half of Jayammu Nischayammu Raa starts on a slow note and it is all the levels of entertainment which makes the first half passable. Srinivas Reddy performed the assigned role with ease and his performance is the major highlight of the film. The film has been entirely predictable and most of the episodes have been borrowed from many Tollywood films. On the whole the first half of  Jayammu Nischayammu Raa has nothing much to do and it has been just average.

The second half of Jayammu Nischayammu Raa too manages the same pace and is low throughout. Most of the episodes from the second half have been dragged much which irritates the audience. The songs have been placed and shot well however the love story looked faked out. Poorna failed to impress the audience which happened to be the biggest disappointment. The climax looked simple and on the whole the second half of Jayammu Nischayammu Raa remained low throughout.
Jayammu Nischayammu Raa
P

erformance :
Srinivas Reddy tops the show as a responsible son, professional youth and a superstitious guy in the film. He has been exceptional in the assigned role and his efforts should be appreciated. Poorna has been simple, traditional and decent in her assigned role. Sri Vishnu looked electrifying with his performance throughout the film. All the other actors have been decent in their assignments.

The story of Jayammu Nischayammu Raa has been quite simple but it reminds us of many past Telugu movies. The screenplay and dialogues looked simple and they fail to make it big. The music and the background score looked pretty average. The cinematography has been decent and kept the film engaging, it captured the beautiful locales of Godavari. The production values have been decent and the director puts on his efforts but ends up with a below average flick.
Final Word:


Jayammu Nischayammu Raa has some interesting moments, however the film dips down badly because of the slow pace and the below average narration. Srinivas Reddy excels in the assigned role with perfection.