Eedu Gold Ehe is the story of Bangarraju (Sunil) who is an orphan and works at various places which make his owners uncomfortable. During his struggling days, he will be supported by Jayasudha who treats him like her elder son. During this time he faces heat from a betting mafia goon Mahadev who mistakes Bangarraju as Sunil Varma. The rest of the film is about Bangarraju's relation with Sunil Varma? Why Mahadev hunts for Bangarraju? What happens next? Watch Eedu Gold Ehe to know about the film.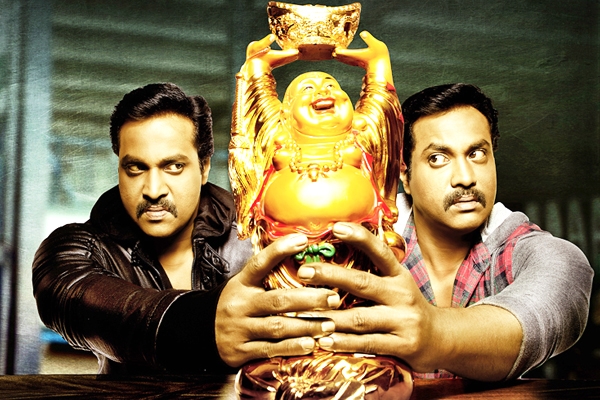 The first half of Eedu Gold Ehe has been decent with interesting twists and loads of entertainment. Though the film dips at times, it is the entertainment which holds the film well. Eedu Gold Ehe has a lame plot which is completely predictable and outdated. The songs have been completely down the line and they do not impress the audience. The interval epiosdes have been shot well which bring back the interest on the movie.

The second half of Eedu Gold Ehe has been decent however the film dips down completely. The levels of entertainment drop down and the film looks flat till the pre-climax episodes. The climax twist has been quite interesting and on the whole the second half of Eedu Gold Ehe is a huge reason for the film's debacle.
Eedu Gold Ehe
P

erformance :
Sunil comes out with an outstanding performance and he impresses the audience big time. His comic timing has been stupendous and he is the major highlight of the film. Jayasudha has been stupendous in emotional parts and all the other actors have been quite decent. Richa Panai and Sushmaraj have been glamorous throughout the film. All the other actors delivered out the best.

The story of Eedu Gold Ehe has been decent with enough twists. The screenplay and the dialogues have not been written well. The music and the background score have been just ok. The cinematography has been completely decent and is one of the highlight of the film. The production values of the movie  have been lavish and Veeru Potla comes out with a lame narration and outdated plot.


Final Word:


Eedu Gold Ehe is a film that lacks interesting plot and gripping narration. One more disappointment from Sunil.
Eedu Gold Ehe Movie Review