Aditya (Nani), a native of Bhimavaram works an assistant director for SS Rajamouli. He happens to meet Suma (Priya Shri) through his friends and tries hard to impress her. She instead focuses on his past and Aditya narrates his heartbreaking lovestory with Kiran (Anu Emmanuel) after which he gets connected to her again. It is during this time, Aditya starts searching for Kiran and Suma comes with the biggest twist. The rest of the film is all about how Aditya manages to convince Kiran and bounce back in life. Watch Majnu to know about the rest.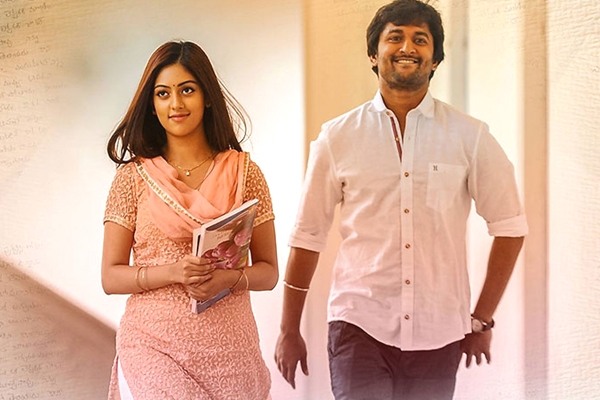 Majnu is a complete breezy entertainer with an engaging and entertaining first half. The love story has been fresh and romantic. Nani impresses big time with his comic timing and the songs have been shot extremely well. The film may be predictable however the director made sure that the audience enjoyed the film. The interval episodes turn out interesting and on the whole the decent first half of Majnu will sure impress the audience big time.

The second half of Majnu too leaves you speechless as the film has the right mix of emotions, drama, love and entertainment. It is Nani who carried the complete film on his shoulders and the songs have been presented extremely well. The movie drops down for an instant however it picks back at the right time before much damage has been done. The climax has been completely impressive and the second half is convincing.
Nani strikes hard with his stupendous comic timing once again. He manages to carry the complete film on his shoulders. The actor made sure that every scene of him looked impressive. Anu Emmanuel has been decent and impressive with her acting skills and expressions. Priya Shri has been extremely supportive and convincing. Sathya, Posani Krishna Murali and Vennela Kishore carried out the entertainment well. Raj Tharun has been good in a cameo. All the other actors made sure that they did their job well.

The story of Majnu has nothing new to reveal. The screenplay and the dialogues have been written well and they looked impressive. The cinematography is one of the major highlights of the movie and the editing has been crispy. The music has been melodious and the background score has been elevating. The production values looked grand and Virinchi Varma made sure that he impressed the audience through Nani's comic timing.


Final Word:


Majnu is sure a worth watching romantic entertainer if you ignore the predictable plot. Nani impresses the audience big time with his timing.