Gentleman is the story of Gowtham (Nani) who falls in love with Catherine (Niveda Thomas). She moves to UK for a project and it is after her return, Catherine comes to know about Gowtham's sudden demise. Jay Ram (Nani) comes into picture who gets engaged to Aishwarya (Surabhi) and it is Catherine who becomes Aishwarya's friend after which things change completely. Catherine tries to pull out the real culprit behind the death of Gowtham. Watch Gentleman to know about the real secret behind Gowtham's murder and who the real culprit is.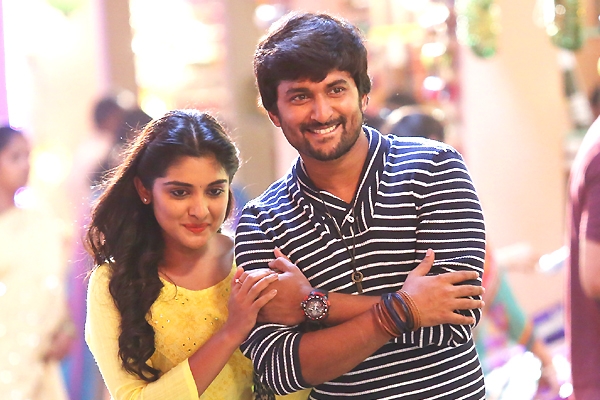 The first half of Gentleman has been entertaining throughout. The love stories have been fresh and engaging which makes the audience impressed. The songs have been shot well and they have been placed at right parts. The interesting and sensible episodes carry away the film well and the interval episodes make a lot of impact on the audience. On the whole the first half of the film has been impressive.
The second half of Gentleman takes a completely different turn completely. It has been serious and interesting with enough twists throughout. The second half has been predictable at parts and it dips down. The climax has been decent and it explains all the answers for the questions left. On the whole, Gentleman is a movie which is passable.
Nani has been completely energetic throughout and he showed lot of variations as an actor. He excelled in both the assigned roles well. Niveda Thomas is the other highlight of the film and she has been stunning with her presence as well as with her performance. Surabhi has been decent. All the other actors have been decent in their roles.
The story of the film has nothing much new to reveal and is predictable. The screenplay has been decent but it should have been much more better. The dialogues have been good and the music has been apt. The background score has taken the fil to the next level. The cinematography and the technical aspects pulled out the film to the upper level. The production values have been grand and Mohan Krishna Indraganti will sure be relieved after the release of the movie.
Final Word:
Gentleman is not a very good thriller but it keeps you engaging and feel interesting throughout. Nani and the other lead actors impress the audience with their performances. A decent and passable thriller.