Sarainodu is the story of Gana (Allu Arjun) who fights against the system in the society. He makes his presence wherever he is needed and gets back from Army to serve the society. He falls in love with Hanshita Reddy (Catherine Tresa) who is a local MLA and upon impressing her, she asks him to leave violence after which an unknown incident changes his life. The rest of the film is about his relation with Janu (Rakul Preet Singh) and his rivalry with Dhanush (Aadi Pinisetty). Watch Sarainodu to know about the complete story.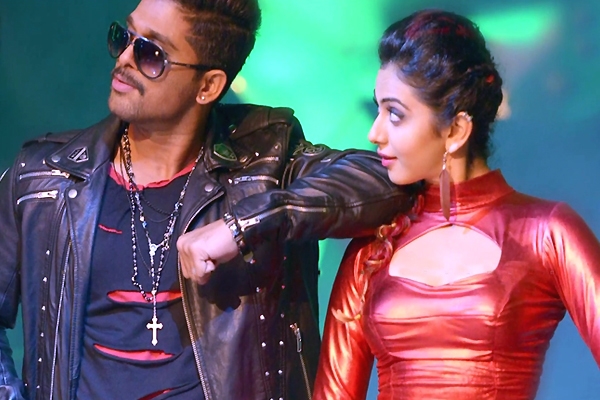 The first half of Sarainodu has right mixture of emotions, entertainment and action balanced well with suspense elements throughout. The songs have been decent and placed well. Allu Arjun is the major boost up of the movie throughout and he has been extremely outstanding in the action episodes. The pre-interval episodes bring lot of interest and the interval episode has been shot well. On the whole the complete first half has been completely impressive.
The second half of Sarainodu too carries the same pace initially however the film lacks interest when it heads forward. The dose of action becomes high and the film becomes predictable at parts. The pre-climax episodes catches the pace and the climax of Sarainodu has been shot well. The climax of the movie makes a huge impact on the movie and the complete second half has been decent.
Allu Arjun has been outstanding throughout the movie and he excelled in all the available ways in Sarainodu. He has been energetic and has taken special care on his character. Rakul Preet Singh has been limited for songs and she had limited screen presence. Catherine played an important role in the movie as MLA and performed well. Srikanth has been assigned an important role and he did his job well. Jayaprakash, Sai Kumar, Brahmanandam, Suman and others have done their assignments well. Aadi Pinisetty has been outstanding in the movie and he is the other highlight of Sarainodu.
The story of the movie has been interesting though it has predictable parts. The screenplay and the dialogues have been written well. The music and the background score has been decent and impressive. The camera work played the major role in elevating the movie well. The production values have been grand and rich enough. Boyapati Srinu once again comes out with an out and out action entertainer.
Final Word:
Sarainodu is the right commercial film to be watched this summer if you ignore the dose of action episodes. Allu Arjun performs to the peaks which make the movie a decent action entertainer.
- Reviewed by Siva Kumar.