Cheekati Raajyam is the story of Diwakar (Kamal Haasan) who works as a Chief for Narcotics Bureau. He handles an operation to catch the corrupted in the department. In this process he catches a gang who are exporting drugs and Vittal Rao (Prakash Raj) who is a goon in the city is the best drug supplier. He kidnaps Diwakar's son Vasu and in returns he asks him to bring the drug packets caught. The rest of the film is how Diwakar saves his son killing all the corrupted ones. Watch the complete film to know about the rest.
Cheekati Raajyam
A

nalysis :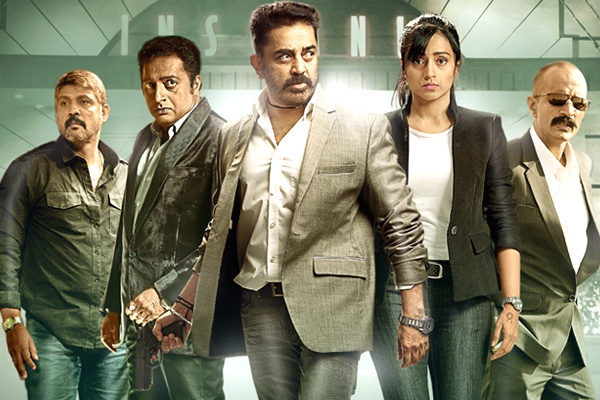 The first half of the film has been quite interesting and has been narrated well. The suspense has been maintained throughout with the performances taking the film to the next level. The background score elevated the important episodes well and the complete first half has been satisfactory.
The second half of the movie has nothing much to do as the complete plot has been revealed during the first half. Some of the scenes have been dragged too much and the director missed the main logics that made the film fall flat. The pre climax and the climax episodes have not been interesting. On the whole the second half is a disappointment.
Cheekati Raajyam
P

erformance :
Kamal Haasan who is the king of action and he carried the film on his shoulders. He has taken enough care in carving out his character and he performed to the peaks. Trisha has been decent in the short and crisp role. Prakash Raj has done thousands of characters as a corrupted brat and he has excelled once again. Sampath Raj and Kishore have been decent with their assignments. All the other actors have been impressive.
The story of the movie has been based on a French Film Sleepless Night. Though the basic plot has been interesting the screenplay in the second half has not been gripping. After an impressive first half, the audience expects more from the second half. The dialogues have been good and the background score has been decent. The cinematography is the major highlight of Cheekati Rajyam and the production values have been adequate. Rajesh M Selva makes an ok debut with Cheekati Rajyam as he fails to narrate the second half in an engaging way.
Final Word:
Cheekati Rajyam has an engaging and interesting first half. But the second half of the film is the spoiler. A predictable thriller.
Reviewed by Siva Kumar.
Cheekati Raajyam Movie Review