Akhil is the story about the Jua which has been made by maharshis during the olden days to protect the world from natural calamities. Some so called terrorists and mafia dons aim to rob the Jua from the African community who have been protecting it from years. The Jua will be given to Bodo who is the only eductated in their community. He hides it in a secret place and reveals the secret to Divya (Sayesha Saigal) who is a medical student by profession. Akhil (Akhil Akkineni) is an orphan and fun going guy who falls in love with Divya. He comes to know about Jua and the rest of the film is how he saved the world and Divya from the threat of the mafia dons. Watch the complete film to know about the rest.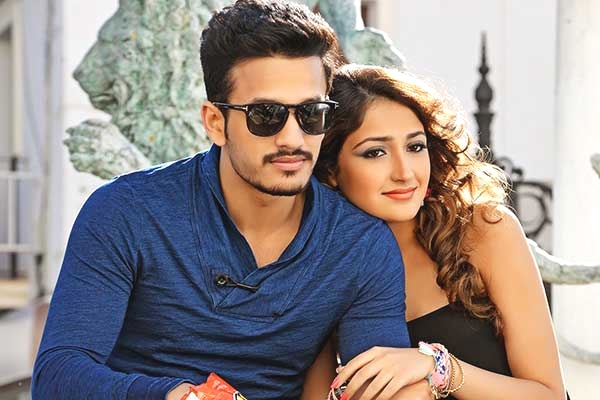 The first half of Akhil has been fresh and entertaining. The racy narration and Akhil's performance make the audience completely comfortable throughout the first half. Sayesha has been beautiful and the songs have been shot extremely well. Though the interval episodes have been predictable, the first half has been handled well.
The second half of the movie shocks the audience as the main plot has been completely ignored. When the comedy episodes take the major role, the audience get irritated and the movie dips badly. The second half of the film has nothing much to offer except Akhil's energetic performance. The pre climax and the climax episodes make the film fall flat. On the whole the complete second half has nothing much to entertain the audience.
Akhil Akkineni is the only saviour for the film and he has performed with ease. He has been exceptional in the action episodes and his dance movements are the highlights of the film. Akhil will sure make big in Tollywood and will be a tough competitor for young actors. Sayesha Saigal has been beautiful and glamorous throughout the film. Rajendra Prasad and Mahesh Manjrekar have been decent with the allotted roles. Brahmanandam and Vennela Kishore tried to entertain the audience with their characters. All the other actors have performed well in their assigned characters.
The movie has nothing new to reveal in terms of concept and even the basic story line will be revealed during the title cards. The screenplay and the dialogues have not been taken enough care which are the main reasons for the movie's debacle. The music and the background score have been decent throughout the film. The cinematography by Amol Rathod is an asset for Akhil. The production values have been grand enough and VV Vinayak has once again come up with a predictable and routine film which may not entertain the audience.
Final Word:
Akhil projects the abilities of Akhil Akkineni and the film has nothing much to offer. A disappointment.