Gautham (Kalyanram) is a fun going responsible guy who takes care of his father's business of Construction. He cares for his family a lot and he has a special bonding with his brother who is a chess champion. He clashes with Puppy (Vikramjeet) who is a don in the city and at the same time he falls in love with Nandini (Sonal Chauhan). Sudden twist arises when a batch of goons lead by Baba (Mukesh Rushi) kills Gautham's brother and the rest of the movie is how he takes the revenge on them and wins his love. Watch the film to know about the rest.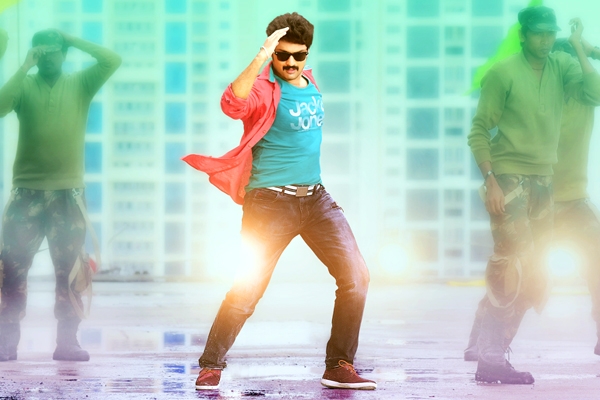 The first half of the movie starts on a decent note but drops drastically after every scene throughout. The songs of the movie are the barriers and they have been placed at wrong intervals. Brahmanandam's comedy is quite irritating and the interval episodes have been completely predictable and outdated. On the whole the first half of the film kills the feel and makes the audience exhausted.
The second half of the movie is an added benefit for the first half. It carries the legacy of the first half making the audience look at the exit doors. The screenplay and the narration have not taken care which kills the complete film. On the whole the second half of the movie is a debacle.
Kalyanram who proved his stamina with Pataas has done an outstanding job in the film. He has been apt and performed the character with ease. Sonal Chauhan has been energetic and glamorous throughout. The antagonists Mukesh Rushi, Vikramjeet, Ashish Vidhyarthi have been wasted and their characterizations have not been designed well. Rao Ramesh and the other comedians have been decent for their limited screen presence.
The story of the movie has nothing new to discuss and it follows the old pattern of commercial cinema. The screenplay and the dialogues of Sher are the main reasons for the movie's debacle. The editing has been ok and the music has been decent. The cinematography and the production values have been below the line that they bring a feel of a low quality film. Mallikharjun who directed Abhimanyu and Kathi tastes his biggest debacle in his career with Sher.
Final Word:
Sher is a film that can be completely ignored in all the available ways. A film that has been done without responsibility. Please ignore it.
Reviewed by Siva Kumar.