The story of the movie starts with Robin Hood (Ravi Teja) who is the son of Kalyan (Ravi Teja) from Kick. When his father fights for Kick, Robin Hood wants comfort and he gets ready to do anything for comfort. He comes to India to deal with his land and he falls in love with Chaitra (Rakul Preet Singh) before leaving from India. He travels to Vilaspur in Bihar for his love. The rest of the movie is about the relation of Chaitra with Vilaspur and how Robin Hood saved the complete village from the evil Thakur (Ravi Kishan). Watch the movie to know about the rest.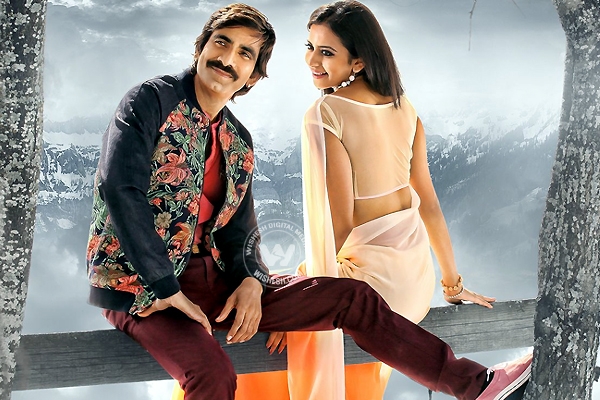 The first half of the movie has high quotient of entertainment and it travels with high energy. The action episodes along with the songs have been carried perfectly. The first half of the film has been completely racy without any dips which make the audience completely satisfied.

The second half of the film is a huge downfall and disappointment. The original plot has been completely deviated because of many unusual and unnatural episodes. The village comedy tests the patience of the patrons and the movie catches pace during the pre climax which does not make any difference. On the whole the complete second half is a disappointment in all the aspects.
Mass Raja Ravi Teja has been extremely energetic as Robin Hood in the movie. He has performed the character with ease and carried out the film on his shoulders. He has been completely lean which has been surprising. Rakul Preet Singh is the main glamorous quotient of the film and she has been completely energetic. Ravi Kishan has done a terrific role in the movie and Brahmanandam has been entertaining. All the other actors have done their best for the movie.

The story of the movie has been strong enough to bring out the emotions. The screenplay of the movie has been confused which deviated the original plot in the second half. The music and the background score are said to be the highlights of the movie. The cinematography has been eye catchy and the visuals have been wonderful. The production values by NTR Arts need a special mention completely and Surendar Reddy failed to re create the magic of Kick in the second half of the movie.
Final Word:
Kick 2 has some very good and engaging first half, but the second half of the movie makes enough damage which make the film fall down. A below average flick.