Kalindi Puri (Kareena Kapoor Khan), Avni Sharma (Sonam Kapoor Ahuja), Sakshi Soni (Swara Bhasker) and Meera Sood (Shikha Talsania) are thick friends who call themselves Veeres and they share some unusual bond. Ten years after this, everyone is occupied and turn busy. Rishabh (Sumeet Vyas) proposes Kalindi and all the Veeres meet for her wedding. The rest of Veere Di Wedding is all about how their lives changed and what happens next. Watch Veere Di Wedding to know about the rest.
Veere Di Wedding
A

nalysis :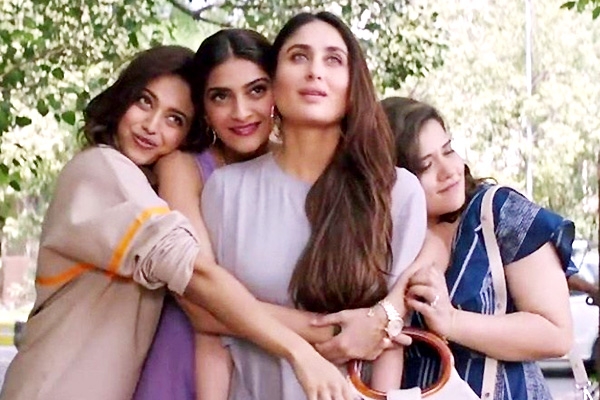 Veere Di Wedding has its moments but it only appeals and connects with a few sections who went through the stage. But the film has been completely entertaining and has a huge dose of adult stuff. The songs have been a treat to watch and Veere Di Wedding has a decent first half which has been completely focused on the gala gang and their noise. Veere Di Wedding has some genuine fun that happens between the girls.
The second half of Veere Di Wedding turns emotional and discusses about the challenges with the dose of entertainment coming down. With four parallel tracks running, the director has been confused at times and there have been several unwanted episodes during the second half. Some of the episodes look thoroughly entertaining and engaging but soon the film dips down. On the whole, Veere Di Wedding has its moments but will appeal to a small section of audience.
Veere Di Wedding
P

erformance :
Kareena Kapoor is the hottest among the gang. She looks ultra glamorous and is a treat to watch. She managed to take a break for pregnancy and return back with a bang and has been elegant. Sonam Kapoor carries the film on her shoulders and her role has been well penned. Swara Bhasker rules the show and she dominates several scenes among the gang. Shikha Talsania delivers out a decent performance and is a treat to watch. Sumeet Vyas has been decent and all the other actors delivered out their best.
Veere Di Wedding has a never touched plot and it is because of the writing the film shines. The screenplay and the dialogues have been impressive and they steal the show. The music and the background score are a treat for the audience and they elevate the film well. The cinematography is a huge letdown for Veere Di Wedding and the editing has been decent. The production values have been grand enough and the director Shashanka Ghosh impresses a section of audience.
Final Word:
Veere Di Wedding is a gala ride by a bunch of girls but it will appeal to a limited set of audience. Kareena Kapoor has been brilliant.
Veere Di Wedding Movie Review, Rating, Story