Secret Superstar is the story of a Baroda based girl Insia (Zaira Wasim) is much talented and matured enough for her age. Though she is closely related to her mother, her father opposes her dreams of turning a singer. It is during this time, veteran singer Shakti Kumarr (Aamir Khan) enters the scene which changes the life of Insia. Secret Superstar is a secret package and is the journey of Insia turning a secret singer and then a Superstar. Watch the film to know about the complete story.
Secret Superstar
A

nalysis :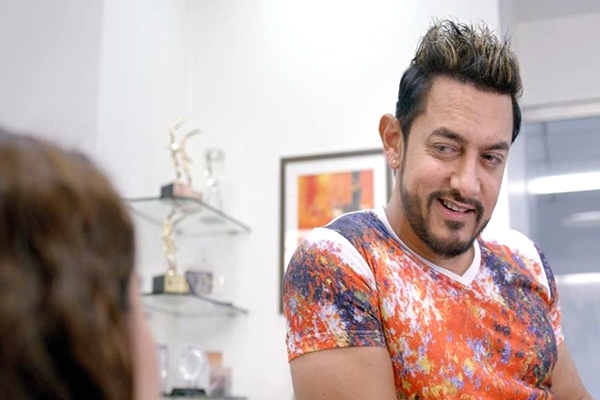 Secret Superstar starts on an interesting note and it explains all the small and interesting aspects of the lead characters. Before execution, Secret Superstar has been penned well and is perfectly presented on screen. The performances along with the background score and the way the film has been executed will blow everyone away. The entire first half frames up the film beautifully and makes a strong impact across the audience.

The second half has been exceptional right from the first frame and is a treat to watch. Aamir Khan will be seen in an extended cameo and Zaira Wasim tops the show with her flawless and stupendous performance. The pre-climax episodes elevate the film and the climax has been hard hitting. Secret Superstar has a beautiful second half which conveys a strong message for every Indian.
Secret Superstar
P

erformance :
Zaira Wasim who made an impressive debut with Dangal got a limited role in the film. Now she is the lead actress in Secret Superstar and is a treat to be watched. She portrayed the struggles of children and the restrictions because of the society. Zaira Wasim is a gem of an actress and she stepped out with an outstanding performance throughout. Aamir Khan has a limited role but it is quite crucial. He has been thoroughly entertaining in the role. Meher VJ too has an interesting role assigned and is the other highlight of the film. All the other actors delivered out their best for the film.

The story of Secret Superstar has many interesting aspects that take place in today's society. The screenplay and the dialogues are the major highlights of Secret Superstar. The music and the background score has been completely decent. The cinematography and the production values elevate the film well. Advait Chandan manages to impress the audience big time with the emotional connect the film has.


Final Word:


Secret Superstar is one film that will leave everyone speechless because of the emotional ride that Aamir Khan and Zaira Wasim promises throughout.
Secret Superstar Movie Review, Rating, Story