After two successful instalments of Housefull, the makers are back with the third instalment of the series titled Housefull 3. The movie is about a father Batook Patel (Boman Irani) having three daughters Gracy Patel (Jacqueline Fernandez), Sarah Patel (Nargis Fakhri) and Jenny Patel (Lisa Haydon). He is not interested in getting his daughters married. However his daughters fall in love with Sandy (Akshay Kumar), Bunty (Abhishek Bachchan) and Teddy (Ritesh Deshmukh). The rest of the film is how all the three guys convince Batook ending up their love stories successful. Watch Housefull 3 to know about the complete story and the narration.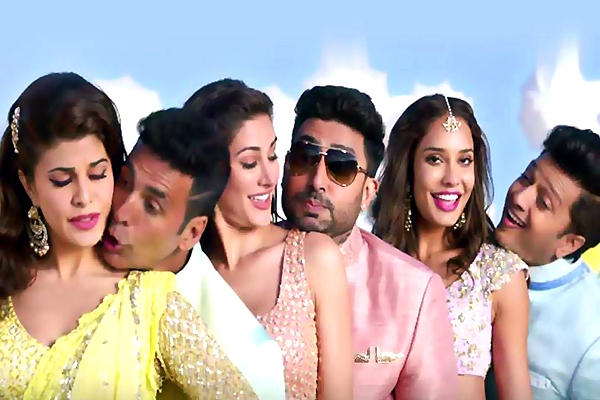 The first half of the movie has been interesting at parts as it promises decent entertainment. Though the film has enough lame episodes that irritate the audience, Housefull 3 can be still bearable throughout. The songs have been decent and the cinematography elevated the film well. The interval episodes make the film interesting and on the whole the first half of Housefull 3 has been ok.
The second half of Housefull 3 dips down completely in all the available ways. The film tests the patience of the audience and the entertainment becomes senseless. The movie has been dragged much and the climax episodes have been shot decent. The performances by all the actors except Akshay Kumar and Boman Irani have been below the expected line. On the whole the second half of Housefull 3 is a huge down fall and is the reason for the film's debacle.
Housefull 3
P

erformance :
Akshay Kumar is the major backbone of the film and he carried the film on his shoulders. He has been outstanding in the comedy episodes and his comic timing has been stupendous. Boman Irani has been decent with his performance throughout the film. Abhishek Bachchan seemed to be lost and he has nothing much to do. Ritesh Deshmukh has been outstanding throughout with his quirky comedy and timing. All the actresses Jacqueline Fernandez, Nargis Fakhri and Lisa Haydon have been decent with their presence and they have been glamorous throughout. All the other actors did their assigned roles with perfection.
The story of Housefull 3 has been taken from the previous instalments of Housefull and it has nothing new to reveal specially. The screenplay and the dialogues are the reasons for the film's let down as they have not been taken enough care of. The music and the background score of the movie have been decent and the cinematography is the major highlight of Housefull 3. The production values have been grand enough. Sajid – Farhad who proved their writing skills fail to impress the audience with their directorial skills.
Final Word:
Housefull 3 is a film that can be completely ignored for the poor narration and the senseless comedy. Though Akshay Kumar and Boman Irani impress the audience with their performances, the film ends up as a huge let down.