Salman's Candid Moment with his Ex-Girlfriend
Posted: 02/16/2016 09:17 AM IST
Salman Khan is called a man with heart and he has been a helping hand to many. Along with these he has been into many controversies along with love affairs. He has been in relation with many leading actresses and celebrities, the list is quite big to reveal.
Salman dated model and actress Sangeetha Bijilani during their early stages of acting. Their relationship reached near to marriage after which they broke up due to unknown reasons. The duo ignored each other and they have never been spotted in public.
Recently, Salman and Sangeetha have been spotted together at Arpita Khan's baby shower. Salman who is a good host had a huge conversation with his ex and he accompanied her to her car when she left from the event. However some of the candid moments between them have been captured.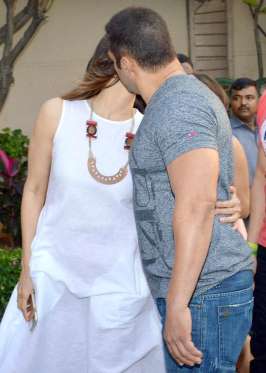 If you enjoyed this Post, Sign up for Newsletter
(And get your daily news straight to your inbox)